By Tony Marren. Irish Theatre Players. Directed by Siobhán O'Gara. Irish Club of WA, Subiaco, WA. 15-24 November, 2018
The Irish Theatre Players have a reputation for being one of the warmest theatre groups in WA, with wonderful hospitality and the friendliest front of house around. It is perhaps ironic that their latest show features many characters who are quite the opposite - very unfriendly people who refuse to talk to each other.
Set in rural Ireland, in the 1960s, it is billed as a fast-paced comedy - but some of the funniest moments come from stillness, and certainly from periods that lack dialogue. Tony Marren's play is a succession of dad jokes and misunderstandings, and has some wonderful characters - but is the sort of script that in less capable hands, might fall flat.
Thoughtfully directed by Siobhán O'Gara, the play centres around couple Maggie and Matty who are celebrating their 50th wedding anniversary, but have not spoken to each other for the last decade. Siobhán Wright's Maggie is a wonderful anchor point with a wry, dry performance with outstanding timing. Frank Glackin is an excellent foil as Matty in a well physicalised performance.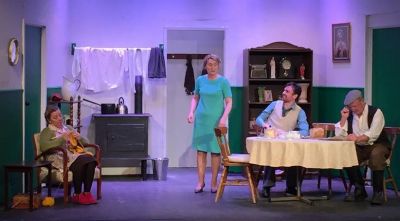 Brian O'Donovan's Andy is a sort of protagonist, a semi-outsider who allows us a glimpse at this rather unusual family situation. He works nicely against Hazel Beirne as his girl friend Josephine, whose performance is well drawn. Denice Byrne is strong as maiden-aunt and (not so) secret drinker Minnie. Alan Kennedy makes the most of his first appearance with ITP, as a very convincing parish priest.
Rounding out the cast in small but nicely captured roles are Scarlett Greenock as complex, bereaved neighbour Kathleen, and Gerry Grogan as Maggie's cousin, and Minnie's former beau, Luke.
There is some gorgeous stage business, including a lovely extended joke with a hanky and lots of silent arguments using props, the small stage is used effectively and the set captures the place and time beautifully.
Perfect for those who love the Irish, and lovers of dark, slightly irreverent comedy.
Kimberley Shaw