By Vincenzo Bellini. Melbourne Opera. Directed by Suzanne Chaundy. The Athenaeum Theatre, Melbourne. September 17 – 24, 2019.
In customarily self-assured style, Melbourne Opera opened Norma to cheering applause last Tuesday. The tale of a love triangle about to go murderously wrong, Norma is the pinnacle of the bel canto repertoire from arguably its greatest exponent – Vincenzo Bellini. In the legendarily difficult title role, Helena Dix sweeps all before her with a voice not unlike raw honey. Rich, syrupy, and textured during the monumental bel canto legato sections, yet with bright and crystalline qualities brought forth as needed, and always deftly controlled and modulated. From her first, chiding words to the druids, to her final, determined declaration of her own death sentence, Dix held the audience in thrall on opening night.
Jacqueline Dark as Adalgisa was a perfect vocal foil for Ms Dix, her voice richly layered and emotive. Ms Dark's impassioned plea in the duet "Mira, o Norma" (my favourite piece of the opera) was so heartfelt, I nearly ran on stage to protect the poor children myself. Indeed, Ms Dark was in both of my favourite moments of the evening, the other being the electrifying trio at the end of Act I, which features, in addition to Norma of course, the final member of the narrative love triangle, Samuel Sakker as Pollione. Since I last heard him in person, his voice has only grown in power, control, and grace. As Pollione, Mr Sakker convinces utterly of his frustration at losing control and his absolute determination to best Norma.
Equally electrifying on opening night under the guidance of Maestro Raymond Lawrence was the Melbourne Opera Orchestra. Mr Lawrence has proven again that he is a masterful conductor of voices, providing support and space for the singers to shine while showcasing the score. Deftly managed tempi and dynamics ensured we were never treated to the spectacle of Orchestra vs Singer.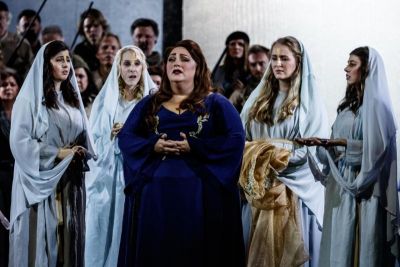 Eddie Muliaumaseali'I as Oroveso, Rebecca Rashleigh as Clotilde, and Michael Lapina as Flavio all turned in their customarily reliable work in the supporting roles. We are fortunate to have singers of this calibre available for supporting work as it truly lifts the entire piece. A special mention must go to Ms Rashleigh for her excellent on-stage child-wrangling skills.
Which brings me to the chorus, who have yet again outdone themselves with precise vocals and diction and great presence on stage. So lovely to see how everyone had developed and inhabited their own character, giving them (mostly) a sense of purpose as they moved about the stage.
Finally, a couple of quick words about sets, costumes, staging etc. Suzanne Chaundy and her team have done a phenomenal job bringing Norma to life, but I personally was thematically lost from the start. It wasn't clear that we had not just time-jumped but terrain-jumped. The set was beautiful but with the shiny flooring it didn't make sense as a druid's grotto. From the stalls, it looked like the druids had found an abandoned ballroom and decided to set up choir risers. The high-level concept of authoritarian regimes and freedom fighters was one I really wanted to work, but it never gained enough purchase into the narrative to make sense. It also led to the inclusion of some female chorus on stage during the Act II men's chorus and, since they weren't singing, they were just moved around the stage which felt very awkward. On the whole, though, these are minor issues and the scale of Ms Chaundy's achievement cannot be overstated.
Catherine MacCallum
Photographer: Robin Halls