Music: Pyotr Ilyich Tchaikovsky. Queensland Ballet. Choreographer: Ben Stevenson. Conductor: Nigel Gaynor. Lyric Theatre, QPAC. 8-16 Dec 2017
Presented annually for the past four years, Queensland Ballet's The Nutcracker has been so phenomenally successful that this year they've had to move the production to a bigger venue to accommodate the demand for tickets. Notwithstanding this production also saw the return to the stage for the first time in 18 years of Queensland Ballet's artistic director Li Cunxin as Dr Drosselmeyer, a one-time only performance on 10 December that was sold-out within one hour of the tickets going on sale. And this chocolate box of goodies sits just as comfortably on the Lyric Theatre stage as it did in the Playhouse.
Toys coming to life is the ultimate child fantasy and this production ticks all the right boxes; Tin Soldiers that dance, Giant Rats that draw laughs, a chorus of snowflakes, a beautiful Snow Queen, an exceedingly handsome Prince, an exquisite Sugar Plum Fairy, and all of it encased in a 19-century European Christmas setting with fake snow descending from the flies and in the auditorium. It's a festival of delight.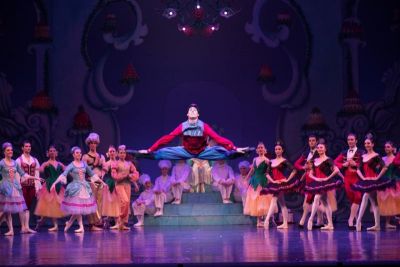 Lou Spichtig was a fresh and vibrant Clara whose girlish dreams become reality, Mia Heathcote, repeating the role I saw her in last year, was still a charmingly fey bespectacled Auntie, whilst Dylan Lockey's dastardly King Rat was straight out of pantomime-land.
Highlight of the first act was Jack Lister's cape-swirling turn as magician Dr Drosselmeyer. Pulling flowers and coloured hankerchiefs out of nowhere he was an athletic and mischievous jester.
The second act divertissments were a treat, again with Lister excelling as one of the Mirlitons with Chiara Gonzalez and Laura Tosner, Liam Geck's Russian Dancer providing some spectacular leaps touching his toes, and Sophie Zoricic and Zhi Fang leading the flower dance with skilful precision.
But the grand pas de deux was the piece de resistance with Neneka Yoshida as a stunning Sugar Plum Fairy and Vito Bernasconi as a storybook Prince. She was supremely elegant whilst he was virulently masculine. Their coupling added the frisson of electricity that the whole production needed.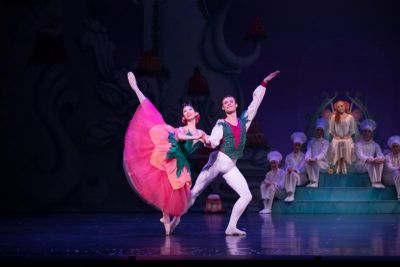 Like previous years, the company was augmented by the Jette Parker Young Artists, Extra Company Artists and the 2017 Queensland Ballet Academy Pre-Professional Program Students, plus the St Peters Lutheran College Choir and the Voices of Biralee, who made the first-act Land of Snow finale a showstopper.
Regardless of how many times we've heard it and how many times Queensland Symphony Orchestra have played it, Nigel Gaynor still managed to bring out the drama and delight of Tchaikovsky's peerless score, whilst Desmond Heeley's costumes, interpreted by Noeline Hill, added to the appropriate storybook fantasy. The whole production was a bauble of joy!
Peter Pinne
Photographer: David Kelly