Choreographer: Peter Wright. Composer: Piotr Ilyich Tchaikovsky. The Australian Ballet. Adelaide Festival Theatre. October 8-12, 2019.
The Australian Ballet's production of Peter Wright's The Nutcracker is a superbly detailed and stupendously performed delight. This is a delicious treat for the upcoming festive season; traditional, but still with plenty of unexpected surprises that pop up like shining coins hidden in a rich Christmas plum pudding.
A favourite of ballet lovers, The Nutcracker's simple and delightful narrative is perfect for children as well as other newbies to the ballet. Its magical themes of childhood dreams and expansive imaginings stir the child within us all.
Dr Stahlbaum, his wife (a former ballerina), together with their young ballet student daughter Clara and son Fritz, welcome guests to a Christmas Eve party in their home. A huge Christmas tree is soon surrounded by gifts for the children. The gifts include a Nutcracker doll, which is a surprise for Clara from a strange magician, Drosselmeyer, who has been invited to entertain. After the guests and Clara's fellow ballet students leave and the household retires for the night, Clara is unable to sleep. She heads downstairs to the Christmas tree to find the Nutcracker, which has fascinated her from the moment she was given it that evening. To Clara, the doll is filled with magical powers.
At midnight, very unusual and mysterious happenings begin.
While the training and talent of the excellent cast is evident in every dancer on stage, it is the overall spectacle of colour, music and choreography that captures one's heart.
John F Macfarlane's richly beautiful settings and costuming astound. As the inspiration for the rose reds and inky blues that abound in the colour palette he has used the colours of flowers and nuts within an ancient pot pourri box he possessed.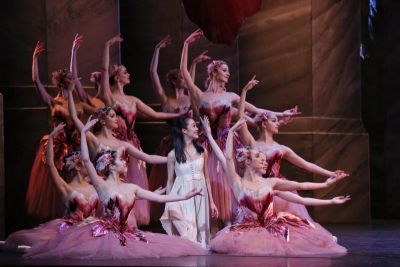 A huge Christmas tree towers over a sumptuously decorated and curtained room, its deep red colouring evocative of lush velvet and wealth. This room later transforms with dramatic imagery into a dense, dark forest as Clara's mysterious adventure begins and then into a sparkling white landscape of ice crystals for the Land of Snow, to then evolve into the pinks, reds and blues of sun, moon and the gorgeous flowers of the Kingdom of Sweets.
The mechanism of the Christmas tree's evolution into the looming, mysterious forest is quite stunning and one of this traditional production's unexpected surprises, as is the sight of Clara as she flies through the clouds in a later scene, as well as the movement of furniture, household rats and other effects. Each scene change is immensely evocative; simply beautiful.
There are true gems, too, amongst the gorgeous costuming, including the magnificent red velvet and silk gown of Clara's mother (Natasha Kusen) in the opening scene, as well as the wonderful silk-jacketed dancers who are the giant rats.
Lighting design by David Finn and Jon Buswell brilliantly evokes mood, while choreography by Peter Wright, Lev Ivanov and Vincent Redman is wonderful.
For the Adelaide season, The Adelaide Symphony Orchestra is sublime in its playing of Tchaikovsky's magnificent score.
On the night attended by this reviewer, Clara was danced by Yuumi Yamada, in a delightfully light and entrancing performance. Andrew Killian was mesmerising as magician Drosselmeyer, Ako Kondo was quite breathtaking as the Sugar Plum Fairy, while Brett Chynoweth was sublime in an expertly controlled performance as the Prince.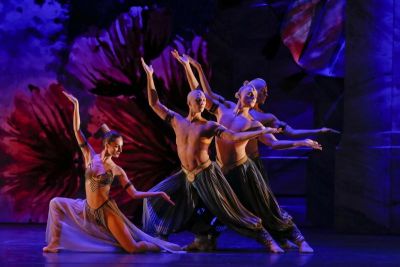 Dancing in his hometown of Adelaide, where his talent and Adelaide-based childhood training led him to study at The Australian Ballet School and then on to The Australian Ballet itself, Christiano Martino displayed skill and athleticism as Harlequin. Jade Wood was magnificent in dual roles, as Columbine and The Rose Fairy and Nicola Curry was magical as the Snow Fairy. King Rat, athletically performed by Rohan Furnell, was given a magnificent presence on stage.
Delightful performances by guest artists Audrey Nicholls (Grandmother), Colin Peasley (Grandfather), Thomas Hobbs (Fritz, Clara's younger brother) and Franco Leo (Butler) added gorgeous humour. The young cast making up Clara's fellow ballet students were delightful. Artists in the various 'Dances' in the second act took the audience on an entrancing world tour. All other artists contributed to a magnificent ensemble performance of this beautiful ballet.
Artistic Director David MCallister describes this production as 'a labour of love'. That investment of love and creativity has borne delightful fruit, as attested by the reception given to it in Adelaide on opening night.
The production has only a short season in Adelaide before heading to Sydney, so don't miss the splendid festive confection that is The Australian Ballet's The Nutcracker.
Lesley Reed
Photographer: Jeff Busby