Music: Richard Rodgers. Book & Lyrics: Oscar Hammerstein 2nd based on the 1931 folk play Green Grow the Lilacs by Lynn Riggs. Director: Tim O'Connor. Musical Director: Maitlohn Drew. Choreography: Callum Mansfield. Harvest Rain Theatre Company. Concert Hall, QPAC. 17-20 April 2013
Producer Mike Todd's famous quip after Oklahoma!'s New Haven tryout in March 1943, "No gags, no gals, no chance," proved to be spectacularly wrong when the show went on to win rave reviews, a Pulitzer Prize and a run of 2,212 performances on Broadway. Not only did it change the face of musical theatre, Oklahoma! became musical theatre's DNA.
Harvest Rain has chosen this classic as their first foray into fully-professional theatre. It's a good choice. The show has not been produced commercially in Brisbane for over thirty years and this year marks its 70th Anniversary. Yes, its dated (they don't write musicals with 'dream ballets' anymore), but the love triangle of Laurey, Curlie and the evil Jud Fry, set against turn-of-the-century statehood in the U.S., has not only wonderful characters, but one of the most enchanting scores ever written by Rodgers and Hammerstein.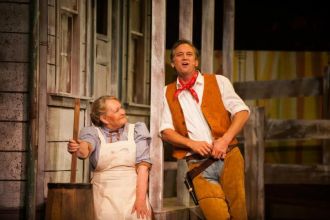 Two performances stood-out, Ian Stenlake as Curly and Andy Conaghan as Jud. You couldn't wish for a better Curly than Stenlake who was jocular and winning as the cowboy who finally got his girl. His previous experience playing the role in 2006 for Melbourne's Production Company shone through. (He won a Green Room award for it). Although Conaghan brought out the dark side of Jud he also made him human, and was especially thrilling on "Lonely Room." Angela Harding was a feisty and pretty Laurey, but her vocals were thin and rarely sweet, while Erika Naddei eschewed subtlety and went for the obvious as Ado Annie. Old-stagers Val Lehman (Aunt Eller) and Stephen Tandy (Andrew Cairns) never missed a laugh, nor did Matty Johnston as Ali Hakim, with Glenn Ferguson turning in a likeable Will Parker.
Callum Mansfield's choreography was of the rumbunctious hoedown type, Maitlohn Drew's 24-piece orchestra produced a big, sweeping sound, and Tim O'Connor's production kept things lively in a long show. Josh McIntosh's rural farmhouse set filled the Concert Hall stage which was a good thing. It made the cast of 20 seem infinitely more. Harvest Rain has been brave to set their foot into the commercial arena, but full houses and an extra performance have justified their move. On its 70th birthday, in the words of Oscar Hammerstein 2nd, "You're doin' well Oklahoma, Oklahoma's OK."
Peter Pinne
Images: (top) the company of Oklahoma! and (lower) Val Lehman as Aunt Eller and Ian Stenlake as Curly