Music and lyrics by Glen Hansard and Marketa Irglova. Book by Enda Walsh. Directed by John Tiffany. Princess Theatre, Melbourne. From September 25th, 2014
Once has hit Melbourne, and it's the perfect musical for people who don't normally see musicals, or know much about them. Beautifully staged, and with a wonderful cast, it has been called enchanting, romantic, naïve, innocent, beguiling, and simplistic. These are all positive adjectives, but they also can be used in a negative way to sum up this show that breaks all the rules and is perhaps the most hyped up musical of the 21st century. Women will adore it, and bring lots of hankies (if it's still on come Valentine's Day it's the perfect outing). Men (and Music Theatre tragics) might scratch their heads a little and be reminded of the fairy story of The Emperor's New Clothes. Nevertheless, this delicate and fragile show is perfect for those who find it difficult to relate to a world gone crazy, and want to escape in a sweet fairy tale.
The simple plot – based on the film and the true story of Glen Hansard and Marketa Irglova – can be summed up in the classic cliché of star-crossed lovers – Boy meets girl, they fall in love, boy loses girl. It's that simple, that romantic, that predictable. And why not? It's been good enough for Mills and Boon readers for over fifty years. Oh yes…he fixes her vacuum cleaner and she inspires him to write (though that happens instantly and is a little difficult to accept …but , as I said, it is naïve). Ultimately, amid the heady euphoria of their love for, and in, music, she sends him on his way to be with the girl he has always loved.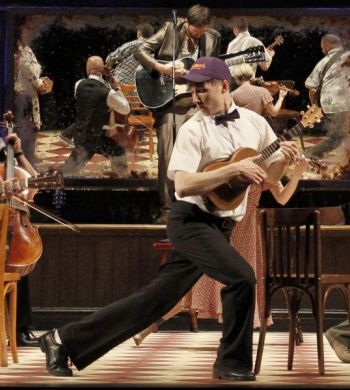 There's an air of melancholy in the somewhat dirgy folk/pop music which people will either love or dismiss. Don't expect brilliantly constructed songs that genetically grow from action. This is a gentler, less sophisticated version of the musical. It has no big moments, no show stopping songs. But then, for those who fall in love with it, none are needed. "Falling Slowly" is the hit song which won an Oscar, but there are better offerings in "Gold", "Leave" and "The Moon" (an etheric reprise of which is truly beautiful) and "Sleeping".
Despite playwright Enda Walsh's attempts to inject humour and energy into the book, it remains lightweight, even in its un-ashamed romanticism. The characterisations are good (apart from the star-crossed lovers Guy and Girl, who are never developed and remain enigmatic – perhaps like love itself), but the dialogue lacks the wry humour of the Irish in most places – and there's even a cringe-worthy dialogue scene where the Czech Girl explains to the bank manager (who IS Irish) how to be proud of all the talented people who are Irish and have made it in the world….but that, too, may be seen as positive and inspirational by some.
But let's move on to the actual production….because that is where the true genius lies. John Tiffany's vision is brilliant and, for me, totally the reason the show is such a success. He has stayed true to the simplicity at the core of the film and has set the entire story in a one-set Irish pub. Bob Crowley's design is inspired, with a huge mirror hung at an angle behind the bar that gives us reversed images of a hand on a guitar, the back of a head, the keyboard of a piano. The set is perhaps more important to the telling of the story than the book itself. Natasha Katz's lighting design avoids ultra sophistication, yet beautifully suggests to us other interiors of the city… the Music Shop, the Hoover shop, the Girl's flat etc.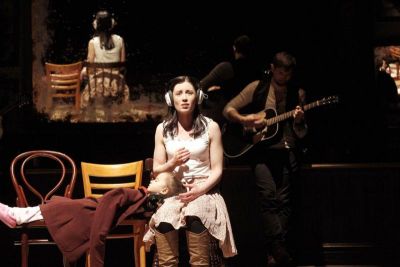 The next piece of genius is in prefacing the show with a traditional Ceili ( gathering of musicians) in the pub, with rousing and energetic, loosely formatted, Irish folk songs while the audience wanders amongst the musicians with drinks in hand. Brilliant, Dazzling, Inspired – and, for me, the highlight of the night. Since the show itself borders on lethargic at times, this 20 minutes or so is where the real magic lies for many of the audience.
We have all heard how the cast need to be quadruple threats, singers, dancers, actors, musicians, and indeed there is a plethora of talent on the stage. Madeleine Jones is an absolute delight as Girl, balancing romanticism and pragmatism beautifully. She conveys Girl's great love of music through the touching moment of greeting the piano…and yet she is stoic in keeping Guy at arms's length despite her love for him. Tom Parsons is tall, good looking, an excellent singer and guitar player, and yet there seems little emotional connection between him and Girl…or even him and the audience. It may take a few more performances (hopefully) for him to settle in. He certainly looks right, but doesn't evoke our sympathy.
The most overdrawn, and therefore perfect comic relief, characters are those of Svee (Brent Hill) and Billy (Colin Dean). Their laughs come from their business, rather than the dialogue. Both are excellent, and just stop short of losing credibility and going totally OTT. Brent Hill is rapidly becoming my favourite supporting actor on the Melbourne theatre scene, and he's a terrific musician to boot.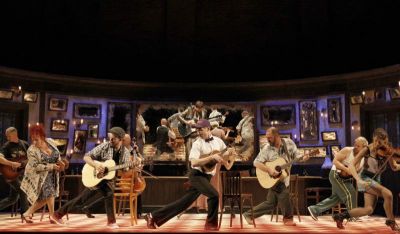 Amy Lehpamer (Reza) is as marvellous as we would expect her to be in all aspects, plus we get the added bonus of her terrific violin playing. The vastly experienced yet still so young Keegan Joyce (Andrej) follows up his success in three series of Rake, with a beautiful performance here and his vocal handling of "The Moon" is mesmerising. Anton Berezin gives a nice take on the Bank Manager, Greg Stone is an effective Da, Jane Patterson finds real dimension as the ex girlfriend, and the rest of the cast are excellent. Remember that ALL of these actors are also the band, and they've already done a full set before the show starts….that in itself is staggering.
Without great direction and a marvellous cast, this could easily be a lack-lustre affair, and there will be some who will still find it so, but I am sure this production holds its own against those overseas. You might be cynical about WHY the show has won such a staggering number of awards, but suspend your sophistication. Go with an open mind and heart, and give yourself over to simplicity, even if you only do it once.
Coral Drouyn
Photographer: Jeff Busby