By Michael Gow. Black Swan State Theatre Company. Directed by Sam Strong. Heath Ledger Theatre, State Theatre Centre of Western Australia, Perth WA. 25 Mar - 9 Apr, 2017
Michael Gow's latest play Once in Royal David's City, a Christmas play with a difference, makes its WA premiere performed by Black Swan State Theatre Company and Queensland Theatre.
A show that frequently draws on the influence of Bertolt Brecht in the narrative - it is significantly Brechtian in style, but borrows from a range of theatrical styles to tell a story that deals with the loss of a loved family member. Despite the subject matter, this is a show of joy and light.
Designer Stephen Curtis gives us a stage as a rehearsal room set, yet very aesthetically pleasing. The set plays well into the theatrical theme and also has many elements of surprise. Lighting also is consciously theatrical at times and always appropriate, in the hands of Matt Scott. Composer and Sound Designer Ash Gibson Greigmprovides a sound accompaniment that is both organic and integral to the plot.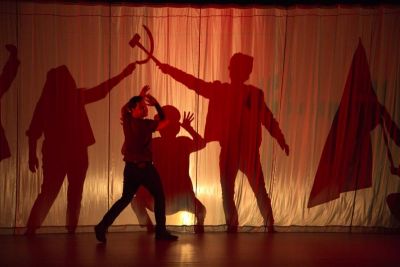 Jason Klarwein shines in the central role of Will, a wonderful centre-cog for a fascinating production. A very relatable character who feels genuine and builds a strong rapport with the audience.
Excellent support from the ensemble cast. Penny Everingham is ideal as Jeannie, Will's mother, a challenging role that she simply owns. Ada Booth is strong as the doctor, Emma Jackson plays teacher Jess well, but also nails a fabulous singing cameo. Toni Scanlon is a sympathetic, likeable Gail, Adam Sollis brings charm to his small roles, Kaye Stevenson has a wonderful tendency to steal scenes and Steve Turner is an audience favourite as the unexpectedly complex Wally.
Certainly the best time I have ever had learning about Bertolt Brecht, but also a beautifully nuanced and lovely to watch show about relationships, expertly crafted both by the author and this production team.
If you have not seen a Black Swan production for a while, this one has a different feel and a glorious joie de vivre. It is well worth seeing.
Kimberley Shaw
Photographer: Philip Gostelow.