By Dennis Kelly. Queensland Theatre Company. Bille Brown Studio. June 23 - July 9, 2011
I believe this is the best piece of play writing I've come across in over forty years of theatre experience. I recommend any aspiring playwrights or screen writers to see this play and watch Dennis Kelly's language at work.
Of course a play is only as good as its actors, and this cast of three do it justice. Kat Henry's direction is spot on.
The action is unrelenting. Dialogue fragments blast at you like a ripiendo of rimshots, pinning you to your seat.
Young, impulsive Liam (Leon Cain) bursts in on his sister Helen (Helen Cassidy) and brother-in-law Danny (Christopher Sommers) after he has just 'done over' a young Pakistani in their suburb.
This is a play about racism and social conflict. Kelly portrays a British situation, but it translates easily to Australia, given the recent Bondi riots and the continuing public concern about the influx of Asians and middle-eastern nationals into Australia.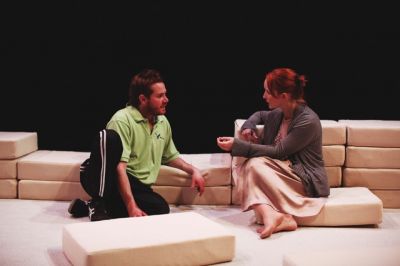 Guy Webster's explosive inter-scene sound effects maintain the sense of danger and violence.
It took the arrival of Helen and Danny's little son (Cai Witt and Coen Chalmers alternate in this brief role) to bring some commonsense and calm to a social situation that had run out of control.
Never have the three words 'Leave the key' carried such significance and engendered such a catharsis.
This is theatre at its best.
Jay McKee
Images (top) Helen Cassidy and Leon Cain (lower) Leon Cain and Helen Cassidy.
To keep up with the latest news and reviews at Stage Whispers, click here to like us on Facebook, or follow us on Twitter