Based on the book by S E Hinton, adapted by Christopher Sergel. Deadset Theatre Company. Bakehouse Theatre, Adelaide. 9-13 July 2019
"Nothing gold can stay," says Ponyboy, quoting a Michael Frost poem whilst watching the sun go down. That seems to be true for this new production from Deadset Theatre Company, which tries to mine a rich seam of material, but nothing here glistens for long.
The young company race through the two-act play, adapted by Christopher Sergel from the original novel written by a teenage Susan Hinton. The 1960s story of maturing adolescence amidst the rebellion of cigarettes, alcohol and other defiance of authority is less controversial fifty years on, and this often-confusing production doesn't do much to lift it above the familiarity of other gang-related tragedies.
The occasional golden moments are in the cast: Dylan Miller's Johnny is a believable turmoil of necessary independence from parental neglect and abuse; he is great at showing his damage and revealing his sensitivity to his friend Ponyboy (Alex Whitrow).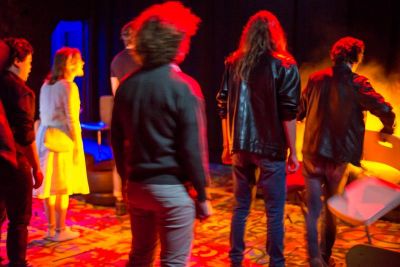 Whitrow stands out too, offering empathy to those not in his gang and realises confusion in his personal transition to a young adult. He delivers his lines with more meaning than most and he's a solid and calm narrator through the sometimes-mystifying mayhem on stage.
Zoe Taylor is sympathetic as Cherry, a young woman from the rival gang – the chemistry between Whitrow and Taylor is almost there, and it is a relationship you want to succeed; and James Fazzalari as Ponyboy's older brother Sodapop shows us glimpses of his range in his love and concern for others, but it's mostly stifled here.
Zoe Muller directs, assisted by Matilda Butler, but much of it is baffling: the actors don't seem certain of where or how to stand and the dialogue doesn't flow as much as bounce between cues. There are some great interactions when the whole gang are on stage, but the power is muted by poor timing or too great and sudden emotional shifts. It's as if they're not guided to hold either emotion or story through its subtleties – instead, it's whisper to scream without pause. When we can hear the words, it's not always clear the performers understand their place and importance in the narrative. Too long scene changes don't help, but the inconsistent pacing decimates critical climaxes of the story: there is no build up, no tension created – only released (but from where?). Sometimes it's not until the next scene can you work out what just happened.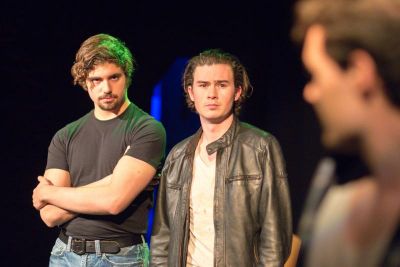 The bare bones set, designed by the directing team from an original design by Brittany Daw, succeeds in describing that pivot between child and adult with its graffiti daubed over a kid's playmat, but the remainder of the minimal stage – mismatched chairs, a see-saw, a few tyres – is used too similarly by the performers across scenes which doesn't help much in believing we're in different locations.
Lighting could have helped with that, but Jayden Cowell's design was minimal and for the night scenes, ineffective when the actors don't stand in their carefully placed spots of light.
The director's notes say that they chose to modernise this production to highlight the story's timelessness – yet without the connection in either dialogue or performance, maintaining the settings, music and costumes in the story's original period means it fails to resonate with 2019.
Deadset Theatre Company was founded two years ago to create theatre for young people aged 16 to 25, providing opportunities to those not well represented on stage. The founders - the directing team of Muller and Butler, with Jean Collins – are courageous to take on an iconic story such as this, but this production only finds the gold on the surface. The cast and creative team have revealed potential nuggets though, and they should be encouraged to keep digging for their next production.
Mark Wickett