Musical Director: Aaron Joyner. Comedy Theatre, Melbourne, 27 August 2012
The annual OzMade Musicals concert has become an integral part of the Magnormos production schedule. To celebrate the company's tenth anniversary this year's concert presented not only excerpts from two new shows, Partners and Happy People, but devoted the entire second act to highlights from Magnormos productions over the past ten years. It was an exciting night with a clutch of highlights.
Anthony Costanzo (music) and Peter Fitzpatrick's (book, lyrics & concept) Partners was a sound idea about relationships 15 years after a wedding and the repercussions on the wife and kids when one partner comes out of the closet. The opening song was short on melody and long on repetition, but the wife's searing solo in the hands of Sally Bourne was riveting.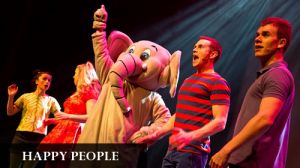 Mathew Robinson's (book, music & lyrics) Happy People was a peppy, poppy piece about a top-rating children's TV performing group (think The Wiggles) and their off-stage drama, which was completely at odds with their image. Musically it pushed all the right contemporary buttons.
In the second act songs by Stephen Schwartz, Jerry Herman, Kander and Ebb and Sondheim, rubbed shoulders with work by Craig Christie, Sean Peter, David King, David W. Young and Peter Rutherford.
Audience favorites were: Mathew Robinson and Erin Keleher with "What More Do I Need"/"So Many People" from Sondheim's Saturday Night, Judith Roberts with "Coleslaw" from Craig Christie's Water Into Wine, Lyall Brooks, Jamie Burgess, Jacob Cook, Matt Holly and Joshua Stanbury with the riotous "Fags Can't Fight" from Sean Peter's Dutch Courage, and Ben Nicholas and the 2005 original cast getting laughs with "The Wedding Song" (I've Been and Gone and Got Her Up the Duff) from A Bunch of Ratbags.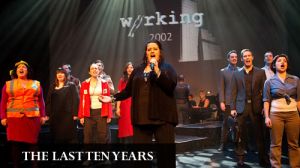 Performances varied from wonderful - Chelsey Plumley's lovely reading of "Fly Away" from Life's a Circus, to inadequate with Susan-ann Walker making a mess of Hello Dolly's "So Long Dearie." The show got off to a great start with Nikki Aitken in full diva mode delivering "Dinner Date" from hers and Jamie Burgess' cabaret musical Gobsmacked, and closed with the company, all 60 of them, singing "California Dreamin' from Flowerchildren.
Aaron Joyner was an amiable, quip delivering host in act one, and wore his musical hat in the second when he conducted his own very clever arrangements for the six-piece orchestra.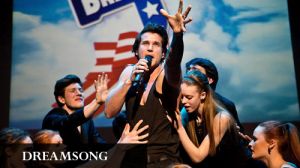 In the last decade no company has done more for original Australian musical theatre than Magnormos. With their support for over 50 Australian musicals during that period their achievement is certainly worth celebrating and considering it was done without any government support should be celebrated even more.
With Stephen Schwartz coming on board as their International Patron, and Tony Sheldon doing likewise on a national level their future is indeed bright.
Joyner announced that Magnormos' 2013 production slate includes a Stephen Schwartz Triptych to celebrate his 60th birthday and a city season of their 2011 success, Flowerchildren – The Mamas and Papas Story, which will open at the Comedy theatre, Melbourne in May.
Peter Pinne
Images: 3 Fates Media.