Opera by George Frideric Handel. Libretto by Silvio Stampiglia, Luigi Mancia, Antonio Caldera; English translation by Amanda Holden. Co-produced by Opera Australia and English National Opera. Director, Christopher Alden; Conductor, Christian Curnyn; Set Designer, Andrew Lieberman. Opera Theatre, Sydney Opera House. Until March 31.
This classy co-production, already an Olivier Award winner in London, breathes new life into a dusty Handel opera from 1730. That the composer of Messiah had written such a comic, absurdist romp is a surprise; though even he might have blanched at some of the night's gender-bending, sex-obsessed goings-on. Handel's classical setting has been moved to the languorous 1930s surreal world of Salvador Dali and Man Ray.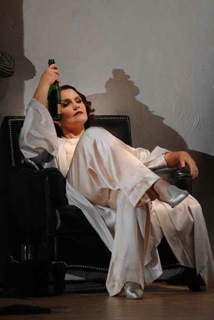 There are only six in the cast but sorting out who's in love with who takes all of the first act. And why is a woman disguised as a man? Why is a real woman playing a man's role? Why does a man sing in falsetto the whole evening? (A: the role was originally written for a castrato!).
The racy new English 'translation' makes you wonder what was the original form of such early-18th-century phrases as "Don't be such a turd" and "How very dare you".
Meanwhile Handel's glittering solo arias come tumbling along, dozens of them one after the other, some gorgeously sprightly, some achingly sad, all with a woodwind, strings and harpsichord accompaniment of great beauty.
The small cast work hard, with brilliant contributions from Emma Matthews as the queenly, man-hungry Partenope; and, show-stoppingly, from Kanen Breen who not only plays the sulky warlord Emilio but also Man Ray in a long skirt doing full-on yoga while singing an aria.
At three-and-a-half hours, it's an experimental challenge for Opera House regulars. The audience had noticeably thinned by Act Three.
Frank Hatherley
Photographer: Branco Gaica