By Deborah Cheetham. Short Black Opera Company. Director: Deborah Cheetham. Musical Director: Dr David Kram. Choreographer: Sermah Bin Saad. Playhouse Theatre, the Arts Centre. September 28 - 30, 2011
Deborah Cheetham is a very talented and busy lady. Apart from being Australia's highest-profile indigenous opera singer, she is also a composer, librettist, director and administrator. All this has come together in Pecan Summer, the first Indigenous Australian opera, words and music by Deborah, who also directs and stars.
After an off-Broadway style world premiere in Mooroopna last year, where the second act is set, the opera opened at the Arts Centre last night to a standing ovation. This was not surprising.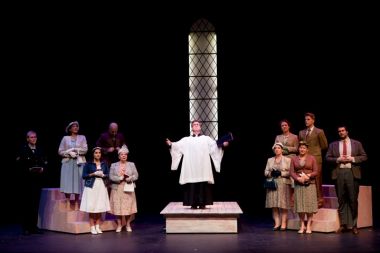 The first thing which impressed me was the music. There was a drama and sweep which showed this music deserved to be heard. David Kram kept a tight rein on his orchestra and was always supportive of the singers.
There was a cast of thousands, which surprised me as there was mention of an Australian tour. Deborah played the mother and sang beautifully, particularly in her lullaby to her daughter in the second act. Jessica Hitchcock was the young Alice, with a bright clear voice. Jonathon Welsh and Rosamund Illing impressed as the minister and his wife who adopted Alice. I was also impressed with mezzo Linda Barcan, whom I hadn't encountered before.
Promising young indigenous singers Tiriki Onus and Don Bemrose performed strongly and with a few more years experience, could have careers on the operatic stage. The chorus work was good and I loved the harmonies.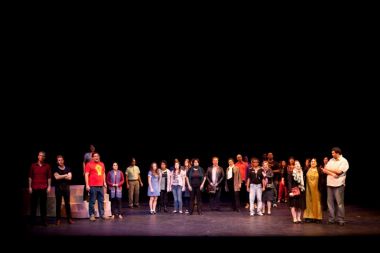 The minimalistic, modular set was suitable for touring and worked well. The direction was generally effective, though the story tended to jump around and you missed some things if you didn't read the program.
The evening was a resounding success, and the audience's response bodes well for the opera and the fledgling company.
Graham Ford
Photographer: Jorge de Araujo.
To keep up with the latest news and reviews at Stage Whispers, click here to like us on Facebook, or follow us on Twitter.