By Alan Bennett. National Theatre Live (cinema screening of Britain's National Theatre production). Participating cinemas nationwide on April 20 and 21.
Set in a decaying stately home in Yorkshire, Alan Bennett's People is the story of former model Dorothy Stacpoole, who must decide what is to become of the place now she's unable to maintain it in her old age. Her archdeacon sister wants it to go to the National Trust but Dorothy is horrified by the idea, preferring to entertain the thought of selling to a shadowy group of investors on the promise that they will keep the public out ("PST - People Spoil Things" is the credo of their oily representative). When this possibility falls through, Dorothy allows it to be used for the filming of a porn movie - the director is an old friend and he even gives her and her companion walk-on parts. But the final solution for the grand old home is never really in question.
On the surface People is very funny, with lots of witty one-liners and some ROTF farcical moments in the second act when Dorothy's companion stumbles in to the porno filming. It's also notable for its finely drawn characters, as embodied by a terrific cast - Frances de la Tour as Dorothy, Selina Cadell as her Archdeacon sister, and scene-stealing Linda Bassett as her companion. Miles Jupp does a wonderfully arch turn as the auctioneer while Peter Egan strikes a delicate balance between sleaze and sexual charm as the porno director. As the National Trust representative, Nicholas Le Prevost delivers a characterisation strongly reminiscent of John Cleese and just as funny.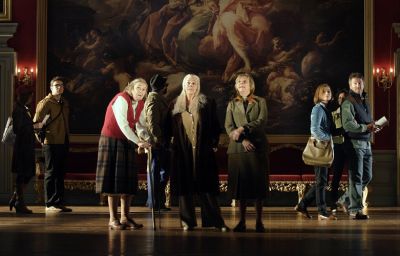 But beyond the humour there is a deep melancholy and a subtext in which the house itself is clearly a metaphor for postwar social change in Britain. Dorothy feels that the house's time has come and wants it to be left to decay rather than allow it to be commodified by the trust. One of the most telling lines in the play is the observation that we are living in an era in which if something doesn't have a price it doesn't have a value. It seems Dorothy wants to live in the past - but her subjective version of it, which now only exists in her memory.
The stage direction by Nicholas Hytner is top notch and the overall presentation of the show as part of the National Theatre film series has been very well achieved. You always have a very strong sense you are watching a live performance, a piece of theatre, and the camerawork captures everything without being intrusive. It's a wonderful opportunity to see a well-written and directed, thought-provoking piece of theatre performed by seasoned professionals.
Alex Paige
See www.sharmfilms.com.au for participating cinemas.
Images: (top) Dorothy Stacpoole (Frances de la Tour) and (lower) Iris (Linda Bassett), Dorothy Stacpoole (Frances de la Tour) and June Stacpoole (Selina Cadell). Photos by Catherine Ashmore.