Eltham Little Theatre. Directors: Kellie and Ian Tweeddale. Saturday November 11 – December 4, 2011
Eltham Little Theatre's annual Music Hall was another enjoyable evening's entertainment. Utilizing a melodrama by Joan Dalgleish, again there was no MC but we did have songs to sing along with and a few bawdy jokes.
The melodrama was on two levels, with the vicar and his wife Eliza, Noel Rawson and Marilyn Pearce, having invited a troupe of actors to perform their show at the church, and Eliza constantly finding inappropriate scenes to complain about. She was coerced into accompanying the show as well, while her husband tried to keep the peace while imbibing from the still on the other side of the stage which was required in a later scene. The two worked well together and were very funny.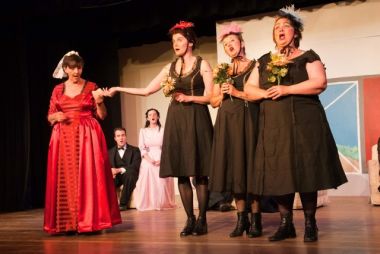 The actors in the melodrama played themselves as well as their characters, so there were scenes where they conversed as themselves while changing sets – a nice touch. Allyson Hunt made a lovely Purity Pimble who worked well with Curtis Farrell playing Manleigh, her hero. Andy Rhodes was suitably over-the-top as the villain Horatio. Michelle Tanner, Louise Steele and Sue Picken were a riot as the three aunts, Lascivia, Oblivia and Trivia.
My only issue I had was the lack of a pianist. Though the piano backings were acceptable, many appeared to be too fast and so hard to sing along with, so things got out of time. But overall, a very enjoyable evening.
Graham Ford
Photographer: Kellie Tweeddale
To keep up with the latest news and reviews at Stage Whispers, click here to like us on Facebook, or follow us on Twitter.