Adapted from Jackie French's book, illustrated by Bruce Whatley, by Eva De Cesare, Tim McGarry and Sandra Eldridge. Composer / Lyricist Phillip Scott. Monkey Baa Theatre Company. Darling Quarter Theatre. March 29 – April 24, 2014, then touring.
How important it is that companies such as Monkey Baa continue to make great theatre for kids! And this, their newest production, is another creative feather in their theatrical cap – a musical adaptation of 2014-15 Australian Children's Laureate Jackie French's delightful book about accepting difference and change.
French's characters, and Bruce Whatley's expressive illustrations of them, have been cunningly adapted for the stage by Eva De Cesare, Tim McGarry and Sandra Eldridge with foot-tapping music and funny lyrics created by the multi-talented Phil Scott. Add to this the much experienced and comedic imagination of Jonathan Biggins as director, and you can predict that there will be good theatre – as well as pace and wit and fun.
And so there is!
French's story, as with all of her books, appeals across the generation gap. The characters are deftly created and their idiosyncrasies picked up cleverly in Whatley's illustrations. But the actual telling of the story, through very Australian dialogue and puns, is French's special gift. Her books are fun to read but they also teach without being at all didactic. None of this has been lost in this production and French herself is, justifiably, delighted and thrilled with the result.
Her characters – the shearers, the sheep dogs and the sheep – are vividly brought to life by Andrew James, Nate Jobe, Todd Keys and Jeff Teale. In Biggins' words "… we've been blessed with an energetic and multi-talented cast who can switch from shearer to sheep to sheepdog with only the change of a hat." In doing so, they all work incredibly hard and fast. There is hardly a moment in this production where the pace slows, and the one time it does – a quiet moment of reflection – is very short, though poignant enough for my almost three-year-old theatre-goer to say "Oh, he's so sad!"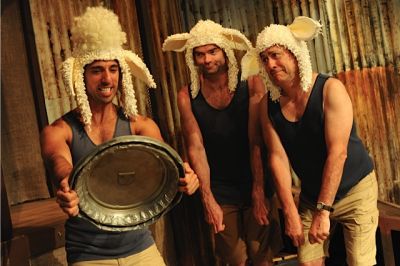 French's story is about a shearing shed. Old hands Ratso (Andrew James), Big Bob (Todd Keys) and Bungo (Nate Jobe) and their sheep dogs (Tiny, Brute and Fang) are joined at the shed by newcomer Shaun (Jeff Teale). Instead of a sheepdog Shaun (you have to love the pun!) is accompanied by Pete, his Sheep-sheep, who speaks politely to the sheep rather than harassing them like the sheep dogs. Shaun is also a pretty radical shearer and when the sheep, pleased with their new 'do' and the gentle consideration of Pete, refuse to work for the sheepdogs, Shaun is ousted from the shed. At Pete's suggestion, he sets up a salon in town and the complications that follow make for some funny reading and even funnier dramatisation.
In the adaptation, Shaun has a certificate qualification from TAFE rather than shed experience and this gives Scott the chance for some very funny lyrics. Additions such as this, necessary to "flesh out the characters… give it a theatrical flow and inject some comedy" (Biggins), in no way detract from Jackie French's original story or Whatley's depiction of her characters. Ratso, Big Bob and Bungo wear the same navy blue shearers' singlets as they do in Whatley's illustrations, while Shaun is flamboyant in a brand new white 'Chesty Bond' version! When creating the dogs and sheep, the actors have picked up on the expressive eyes that are so much part of Whatley's 'humanisation' of the animals in his drawings, and added carefully studied movement and characterisation.
As sheep they enter through the audience in the foyer, woolly headdresses their only tangible 'prop'. But as they shy a little, bleat and follow each other, their bottoms out, their 'hooves' tapping, they are sheep! On stage, and with a change of hats, they become the shearers, characters just as clear, appeal just as engaging. The next minute, with another change of hat, they pounce around the stage as sheepdogs, barking, scratching, ever alert! And they do this time and time again! There is no chance for more than a breath between character changes. Every character talks and moves quickly – and sings and dances as well.
As Shaun (and Fang, and a sheep), Jeff Teale personifies the Shaun of the book. He finds the original innocent self-belief and vulnerability of French's character and the eventual regaining of confidence that is so much part of the story. Pete, his Sheep-sheep, is beautifully characterised by Nat Jobe. His eyes and facial expressions are beguilingly engaging and the audience, young and old, respond to him immediately.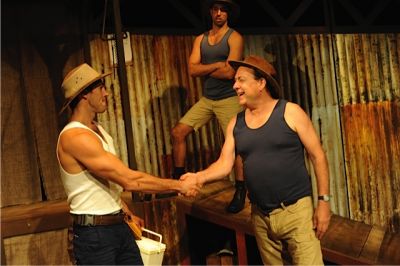 Andrew James plays Ratso as a very archetypical shed boss, strong, set in his ways and averse to change. He poses and gestures and shouts – but in doing so makes the character funny and even a little bit sad. When he changes to Tiny the sheepdog and a sheep, he is just believable and just as engaging.
Todd Keys works very hard as Big Bob, sheepdog Brute and a very tall but endearing sheep. Keys is a big guy with an extremely expressive face and his depiction of Brute is very 'doggily' effective. He is also completely lovable as the sheep who models several of Shaun's creative 'dos'.
All four actors work incredibly hard in a very demanding and extremely energetic performance, which they seem to enjoy immensely. The songs are fast and funny, the choreography simple but amusingly effective, the delivery of lines and lyrics, despite the frantic pace, clear and strong - so that no pun or bit of creative wittiness is missed.
James Browne's set works effectively in its simplicity – with a bit of a 'wow' moment when the shearing shed becomes Shaun's salon. In a show as fast paced as this, where character changes occur almost instantly, easy entrances and exits are essential. Browne has achieved this cleverly, making them part of the fun of the show. Matt Marshall's lighting picks up on this, and the quick changes in mood.
The Darling Quarter Theatre is a perfect venue to introduce children to theatre. It's small, it's intimate, the sightlines are good, even for very littlies, and it's accessible by public transport or car – important when you have kids and their paraphernalia to consider – and this show is a perfect way to introduce kids to theatre, or continue their on-going theatre experiences. It has all the qualities of good theatre in the hands of highly experienced theatre practitioners and is based on the creation of one of our most popular and lauded authors.
Carol Wimmer
Photographer: Heidrun Lohn.