By Philip Barry. Presented by The Therry Dramatic Society. Directed by Kerrin White. The Arts Theatre, Adelaide, 31st March-9th April, 2016
Philip Barry's bitingly witty 1939 comedy of manners is given a generally solid revival by the Therry Dramatic Society. At its best, this production offers an intriguing window into the quaint, sometimes bizarre social rituals of a bygone era.
The plot revolves around the travails of a glamorous heiress, Tracy (Lauren Renee), as she makes arrangements to marry self-made businessman and aspiring politician, George (Brad Martin) in the lavish gardens of her family's country estate. But the arrival on the scene of Tracy's rakish ex-husband, Dexter (Aaron McDonald) and a cynical reporter, Mike (James Whitrow), along with her various embarrassing relatives, disrupts all of the poor woman's best laid plans and much hilarity ensues.
Connoisseurs of snarky humour are well catered for, Barry's barbed dialogue has lost none of its sting with the passing of time. That said, it is harder for a modern audience to really like these characters, given the values they embody are very much a product of their time. The men in particular, often casually make sexist remarks, and have moments where they lecture the women around them in an entitled, condescending way.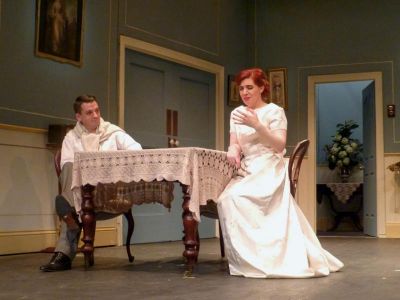 Some first night nerves were in evidence, as all of the cast had moments where their American accents slipped – with the exception of John Gray (playing wicked Uncle Willie with a mischievous twinkle in his eye), who didn't even bother trying. Still, what these performances lacked in polish, they made up for in enthusiasm. Renee does a credible job of embodying a character that is both scatterbrained and alluring. McDonald, rather than trying to endear himself to the audience by underplaying his character's douchebag tendencies, instead delivers a performance of brazen, unabashed arrogance. This serves as a neat foil to Martin, who has "aw shucks" charm to spare as Tracy's fiancée, and Whitrow, whose jaded character tends to relate to others in a dry manner.
Roman Turkiewicz, Celine O'Leary, Ron Densley and Henny Walters all have moments in which they steal scenes as Tracy's dysfunctional family. Walters is especially delightful as Tracy's kid sister, displaying a great flair for physical comedy. Zoe Dibb, as the photographer covering the wedding, gets some of the most deliciously sarcastic lines in the script and delivers them with impeccable timing.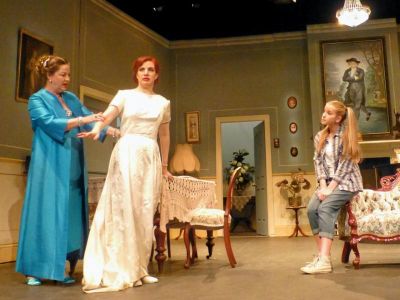 The sets and props are impressively elaborate, but never overly ostentatious, each component serving a clearly defined function. The costumes are also designed with a meticulous attention to period detail, yet also seem a natural fit for these characters in terms of reflecting their personality.
This production offers no groundbreaking new perspective on a very familiar piece, but it is a classy take on a tried and true formula. Fans of the material will likely find much to appreciate.
Benjamin Orchard
Images (from top): Celine O'Leary (Margaret Lord), Lauren Renee (Tracy Lord) and Henny Walters (Dinah Lord); Aaron MacDonald (Dexter Haven) and Lauren Renee (Tracy Lord), & Ron Densley (Sandy Lord), Celine O'Leary (Margaret Lord), Lauren Renee (Tracy Lord) and Henny Walters (DInah Lord).