From the book by Joan Lindsay. Adapted for stage by Tom Wright. University of Adelaide Theatre Guild. Little Theatre Adelaide University. October 6-20, 2018.
Joan Lindsay's Picnic at Hanging Rock was first published in 1967. Whether a true story or not, the eery tale of a group of three girls and their teacher from Appleyard College who go on a picnic to the local beauty spot is etched into Australian lore. The Peter Weir film adaptation in 1975 told with much beauty the haunting, ethereal story about the doomed Valentine's Day trip in 1900.
The inexplicable disappearance of the four girls is the subject of the University of Adelaide Theatre Guild's production of Tom Wright's unsettling stage adaptation of the story.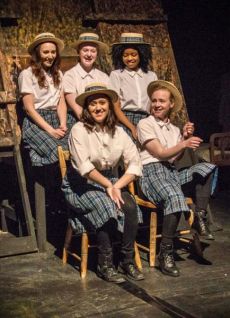 Director Geoff Brittain immediately leads us into the tale as the five girls, dressed in prim school uniforms, address the audience directly as a third person Greek chorus. As the story unfolds the girls seamlessly transform from one persona to another, drawing us into the mystery through a cavalcade of characters from the school and neighbouring town. To build the tension,the use of synchronised movements and actions between the girls gives a dream-like quality to the storytelling and connects them all.
The five actors playing the various roles (Laura Antoniazzi, Gabi Douglas, Zanny Edhouse, Zoe Muller and Rhoda Sylvester) do a sterling job in handling this very dialogue-heavy piece.
On opening night there were a few stumbled lines and I felt some clearer diction and more variation in intonation and movement would have assisted in differentiating between characters. On the whole, however, the actors must be commended for their ability to keep the audience's attention in what at times is a quite confusing jigsaw of situations and characters.
Laura Antoniazzi is to be congratulated for navigating eight very challenging monologues as both a student from the college and the sharp, vicious school principal Mrs Appleyard. Zanny Edhouse again shows her flair for characterisation and accents, playing multiple roles. One in particular that is extremely noteworthy is her rough policeman. Gabi Douglas, likewise, shows great skill in her tortured portrayal of the browbeaten Sara. Zoe Muller's scene where she is lost on Hanging Rock is convincingly terrifying and Rhoda Sylvester's Albert is portrayed with excellent physicality.
Ole Wiebkin again creates a set space that is cleverly multipurpose. A sinister but rich, ochre palette and raw materials give us a climbable 'rock' and a bush setting. In Brechtian style, other props and set pieces in plain view are drawn in and out of scenes.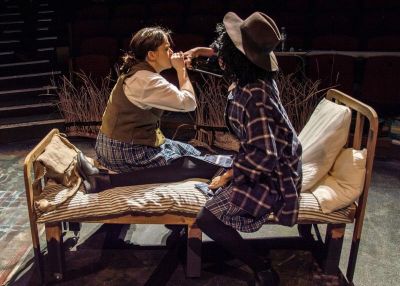 Lighting by Richard Parkhill is clever. Punctuated blackouts build tension and well placed 'specials' highlight narration. The search party scene and use of green and blue floor level LEDs contribute much to mood and eeriness.
The soundscape of music composed by Kristin Stefanoff is apt and in places quite haunting, but on opening night it seemed to overpower the scenes and voices on occasion.
The story of Picnic at Hanging Rock could be superficially seen as a mystery disappearance, but it is the interesting subtext and dark themes that lurk below that make it entrancing. Australia is the "anti-Eden", metaphorically taking revenge and refusing to be tamed by British colonialism. Various other embedded themes pertain to class, colonial guilt and sexual awakening.
Picnic at Hanging Rock is no relaxing picnic, in that it requires the audience to listen carefully and pay attention to a complex narrative. Geoff Brittain has done an excellent job in creating a tense, challenging, theatre experience. The piece unsettlingly shows us again that we are not above mother nature-she always wins in the end.
Shelley Hampton