By Martin McDonagh. University of Adelaide Theatre Guild. Little Theatre. Oct 4 – 15, 2011.
British/Irish playwright Martin McDonagh has had a few plays on stage in Adelaide in recent times. You might have seen The Beauty Queen of Leenane by The Rep this year, or The Cripple of Inishmaan at State in 2008. The Pillowman earned McDonagh the Laurence Olivier Award for Best New Play in 2004.
Director Megan Dansie and her excellently chosen cast do more than justice to the material – this is a genuine hit show. We are in the basement of police headquarters in a totalitarian state somewhere and guess that things aren't going to go well for the trembling man downstage. Katurian (Bart Csorba) is questioned about his canon of short stories and we learn this isn't exactly a political story. Say no more.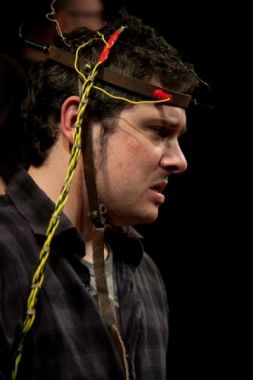 Katurian is a raconteur and Csorba excels in breathing life into the many short fables and tales he tells. His Katurian waxes on the innocence of his writings but they nearly all have sinister outcomes. All these stories are absorbing, deliciously twisted and articulately told. Csorba also shows us Katurian's fear and his pain most palpably.
There is body-tensing menace and danger throughout the play perpetrated by the two police investigators. Tony Busch and Gary George, as the cops, slice deep into your psyche of what you would fear most when powerless in the hands of cold authority. Busch's Tupolski is uncomfortably ambiguous in the pressure he exerts on Csorba. Gary George is a wonderful foil. His physical bulk completely dominates the tinier Csorba but his capacity for violence as Ariel is frightening as his blood pressure rises to boiling point.
Csorba has a brother with intellectual disabilities, played by the young Robert Bell. Never having performed before outside of high school, he provides an astonishing characterisation.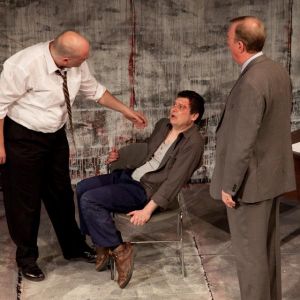 McDonagh switches the style and pace of the play several times and keeps you as off balance as the cops do to Katurian. Mood-altering original music by Aaron Nash gets you wound up even more.
You must see this show. A big bravo!
David Grybowski
Photographer: Tim Allan
To keep up with the latest news and reviews at Stage Whispers, click here to like us on Facebook, or follow us on Twitter.