Music: Arthur Sullivan. Lyrics: W.S. Gilbert. Additional Lyrics: Melvyn Morrow. Conceived & Directed by Simon Gallaher. Harvest Rain. Musical Director: Robert Clark. Choreographer: Callum Mansfield. Harvest Rain. QPAC Concert Hall. 20-22 March 2015
Harvest Rain's The Pirates of Penzance is an evening of glorious entertainment where vaudeville, slapstick, buffoonery and lunacy reign.
The new production celebrates the 30th Anniversary of the opening of the Queensland Performing Arts Centre (QPAC) which opened with the same show.
Simon Gallaher first devised this updated version of Gilbert and Sullivan's beloved comic-opera in 1994 and now sits for the first time in the director's chair. Bringing his history with the show (he starred in the 1985 QPAC production), Gallaher knows his way around this work blindfolded and he has done a marvellous job of delivering a vision that honours the G&S original but firmly puts a contemporary stamp on it.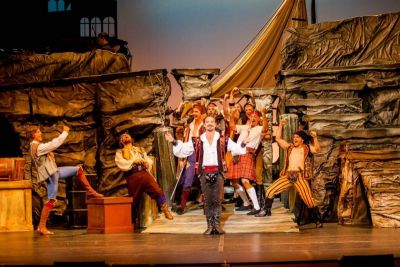 Andrew O'Keefe as the Pirate King mugs shamelessly, sings impressively, indulges himself to the gleaming hilt of his sabre and also finds time to swing from a rope out into the audience several times. It was a gem of a performance. John Wood's Modern Major General was delightfully pompous and, with some added local references to his infamous patter song, an audience favourite. So was veteran Nancye Hayes, in her first G&S role, who had a field day playing the 'over-forty' Ruth.
The two young leads, local discoveries making their professional debuts, could not have been in better hands. Billy Bouchier was a handsome and virile Frederick with a tenor that thrilled, while Georgina Hopson as Mabel was pretty with a lilting soprano. Together they were the perfect pair of lovers.
Natalie Greer (Edith), Astin Blaik (Kate), and Kimberley Hodgson (Isabel) as a "Girl-Group" trio of maidens were wittily stylish, while Dean Vince delivered a funny and athletic performance as the Police Sergeant.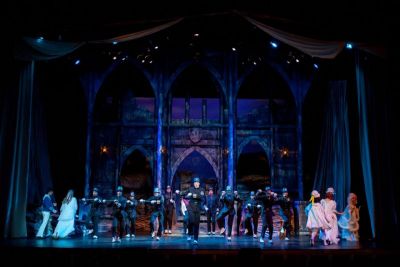 Josh McIntosh's set ingeniously and cleverly swamped the Concert Hall stage, Andrew Meadows' lighting was patchy, but Callum Mansfield's choreography connected all the dots with the lively ensemble numbers.
The orchestra under Robert Clark, using the revised Kevin Hocking orchestrations, sounded thin, but the score lifted it time and time again. Pirates is almost a G&S "best of" there are so many hits in it; "I Am a Pirate King", "Poor Wandering One", "Tarantara, Tarantara", "A Modern Major General", "A Policeman's Lot is not a happy one" and the repeatedly-encored "With Cat-like Tread".
Closing with the now obligatory mega-mix finale, the show proved that after 135 years there's still many years of life in this G&S masterpiece.
Peter Pinne