By Kit Brookman. Ensemble Theatre, Sydney. Director: Elsie Edgerton-Till. 8 July – 5 August 2017
Three times a year the Ensemble runs a play it doesn't reckon will get big audiences in tandem with a crowd-pleaser. Sometimes there are three performances in a day — two of one, one of the other. The setting of the 'less important play' inevitably suffers.
So it is with The Plant by Kit Brookman, inaugural winner of the Ensemble's own playwriting competition. With none of the costumes and setting and lighting and sounds of Neville's Island, the biggie it shares the limited premises with, nevertheless there is no doubt about which is the better, funnier, more gripping play.
On a green stage with large green curtains and a handful of props, a mother and her three children portray their family drama. Harry, the dad, has died suddenly three years ago. Sue, the mother, (Sandy Gore) is trying to cope with little help from Erin (Helen Dallimore), who has a child of her own; Daniel (Garth Holcombe), a gay teacher with his own problems; and Naomi (Briallen Clarke), losing jobs and partners as she spins along.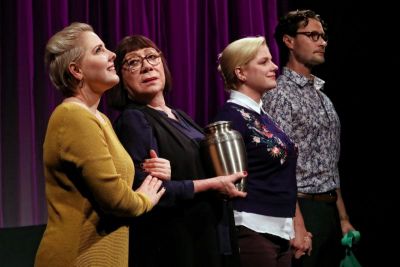 When Sue decides to pack up her husband's belongings, the family are alarmed. The only thing that gives her pleasure is a small pot of Rex Begonia, an unlikely reddish plant, which she names Clare. One day the family arrive to find Clare has, apparently, become a real person (Michelle Lim Davidson), dressed in leaves and with flowers in her hair.
The setting is dull and ordinary, but these actors most definitely are not. Sandy Gore lightly presents a touching portrait of grief and rejection, and the others feast on the words and ideas of playwright Brookman. If I pick out Briallen Clarke for praise, forgive me, but she's marvellous.
The writing is effortlessly Sydney, from the jacarandas in the streets to exhilarating rides on the ferries. Kit Brookman is undoubtedly a playwright of some note.
Frank Hatherley
Images: Sandy Gore and Michelle Lim Davidson, & Briallen Clarke, Sandy Gore, Helen Dallimore and Garth Holcombe in The Plant. Photographer: Prudence Upton