Written by Tracy Harvey. Directed by Pip Mushin. The Flying Saucer Club (Vic). April 5 – 14, 2013. As part of MICF.
The title is provocative and very funny. The show is also very funny, but nowhere near as provocative despite having a storyline that involves a hero with a broken penis, a heroine who is plain (not really) but blossoms, and a bum doctor who secretly lusts for a twittery busted…..sorry, bitter and twisted…nursing manager who turns out to have given away their baby…who in turn, turns out to be……No, I'm not going to spoil it for you.
It would be easy to categorise Pr!ck as a typical MICF offering – Good-humoured, full of dick and bum jokes, and teetering precariously on the tightrope between Fringe and amateur theatre (largely due to some poor direction). But to dismiss it that way would be a mistake. Pr!ck has so much more going for it. For one thing it has some fabulous songs (though there are three or four too many) written by Tracy Harvey, that could hold their own on any main-stage musical theatre. These are brilliantly orchestrated by musical director Sam See. It also has a sensational cast with very strong vocal talent and terrific harmonies throughout. Helpmann award nominee (for Wicked) Jemma Rix is a sheer delight as Connie Monaro….the plain receptionist who has a burning desire to be a doctor. She brings credibility, vulnerability and a kick-ass singing voice to the role. James Schaw is Joey Sparks, the bigheaded TV celebrity who crashes from his pedestal courtesy of a broken penis. This seasoned Music theatre performer, who made his mark in The Buddy Holly Story, brings charisma and even charm in a role which is currently under-written, and he nails the musical numbers. Troy Swindells-Grose is fabulous as the slimey Dr Kingsley…a performance worthy of my favourite TV hospital comedy "Greenwing". He owns the stage at every entrance. There's a fabulous cameo from Alexia Brinsley as Teegan, Joey's ditsy blonde wife, and then there are the two stars….John Wood (Professor Jago) and Tracy Harvey herself (Wendy Westmore)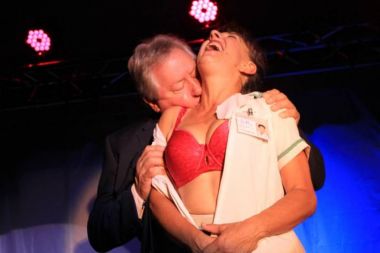 Wood brings all the credibility and gravitas that being a household name superstar for more than two decades allows. Though musicals clearly aren't his preferred genre, his understated professor suffering from cancer brings a much needed humanity to the story. Tracy Harvey is…well, I'm a big fan of this gentle, funny and talented lady, so I'm not sure I fully believed her as a hard hearted bitch, not without some reworking of the script to give her some motivation, as it's impossible NOT to love her. She's a generous performer too. Last year I saw her do the show's torch song "Take Me Now" as a moving solo ( she has a fabulous voice and understands lyrics). In the show it's a duet with The Professor. It's a bad move, and again shows up the many poor choices which the director should have overcome.
With some work on the book, a consolidation of style throughout, an injection of funds, and a little bit of luck, PR!CK could (and should) have a long run in a theatre. It's a genuine home-grown musical. And, though still a work in progress, it's a delight, so see it now before everyone starts jumping on the bandwagon. It's a terrific evening's entertainment.
Coral Drouyn