By Noël Coward. PAANDA - Performing Arts Association of Notre Dame Australia, Mouat St, Fremantle. Directed by Matthew L. Jones. May 14- 25, 2019.
Noël Coward's Present Laughter is having a surge of popularity in WA, with this being the middle of three productions within a year or so. A successful directorial debut for Matthew Luke Jones, this unusual choice of play for a university drama club plays very well.
PAANDA has a comfortable and pleasant venue, and the comfortable 1930s home of actor Garry Essendine, is nicely created by Thomas Blaffwitch, Zakaria Hourani and Troy Coelho, with good efforts from costumier Georgia Grubelich and props manager Justine Ralph to set the era.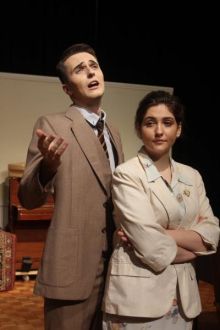 William Evans, in his first show outside school, is delightfully Cowardesque in the central role of Garry Essendine, with a lovely fluidity in a consciously theatrical performance.
Alannah Pennefather is a standout in a beautifully rounded portrayal of Essendine's secretary Monica Reed, a model of efficiency and sarcasm, with Abbey Morris gorgeously elegant and convincing as Essendine's former wife, Liz.
Natasha Guest, also in her first appearance outside school, was believable in the ingenue role of Daphne Stllington, forced to stay with Essendine after "losing her latch key", with Sofia Fleming-Wilson a lovely contrast as the more predatory Joanna Lyppiatt, who finds herself in a similar predicament.
Friends and associates and rivals for Joanna's affection Morris Dixon and Hugo Lyppiatt are well played by Tony Tasam and Vincent Sala-Tenna, Michael Allan works hard as offbeat potential playwright Roland Maule, and Troy Coelho and Hannah Quaden nicely round out the cast as valet Fred and offbeat housekeeper Miss Erikson. (Hannah Quaden doubled nicely and distinctively as Lady Saltburn).
There is definitely some talent to watch in this efficient and entertaining student production. Preview night was a little under attended, so I would urge Notre Dame students, fans of Coward and those who love a good old-fashioned comedy to support this production.
Kimberley Shaw