By Noël Coward. National Theatre Live, from The Old Vic. Cinema Nova, Melbourne and participating cinemas nationally. 1 – 9 February 2020
Present Laughter shows us a few days in the life of hugely popular matinee idol Garry Essendine (Andrew Scott), about to leave London for an 'exhausting' tour of Africa. He's besieged by, but succumbs to, ardent fan Daphne (Kitty Archer). He's harassed by would-be playwright Roland Maule (Luke Thallon). He attempts, at the instigation of his ex-wife Liz (Indira Varma), to settle complications that have arisen between his producer (Abdul Salis) and Joe (Enzo Cilenti), the husband of his manager (Suzie Toase). This last has unforeseen consequences. Garry's faithful if sardonic secretary Monica (Sophie Thompson) tries to control chaos, while cook and housekeeper Miss Erikson (Liza Sadovy) and valet Fred (Joshua Hill) go about their tasks without a flicker of surprise or judgement. All this happens in Garry's 'studio', the spacious living room of his London apartment.
Noël Coward wrote the part of Garry Essendine for himself in 1939. Unfortunately, WWII began, theatres were closed, and production was deferred until 1943. Coward was a huge star, a household name, perfectly groomed (one model for Cary Grant, apparently) and his alter-ego Garry is an ironic, satirical if indulgent and affectionate send-up of himself. Once, searching for a collar stud which had rolled under his bureau, he complained to his butler, 'Life deals me blow after blow.' He knew himself all too well. The play's original title was 'Sweet Sorrow'.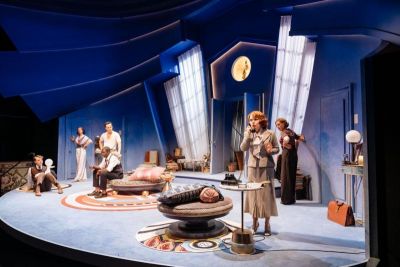 I've only seen Coward on film – his In Which We Serve (Coward & David Lean 1942), for instance, or his all-too-brief cameo in The Italian Job (the original, good one by Peter Collinson 1969), but there are examples of the 'Coward style' – made when Coward was very much in his hey-day. Principally, Private Lives (Sydney Franklin 1930) or Design for Living (Ernst Lubitsch 1933). It's all very elegant, laid back, almost languid – albeit with an edge – dotted with bon mots, startlingly subversively close to the wind while being terribly, terribly sophisticated. Even a chap who's a bit of a chump gets it in the end. And certain lines have become immortal: 'Strange how potent cheap music is.'
Director Matthew Warchus has tried – so he says in a pre-presentation interview – to make Present Laughter 'relevant' to contemporary audiences – hence, I suppose, the casting of Garry. He's played by Andrew Scott (who will now be forever known as the 'sexy priest' from Fleabag II - or, if you prefer, a youthful Moriarty in Sherlock). 1930s matinee idol Garry is still a matinee idol today, star of light comedy and music theatre and still about to go on tour to Africa, but he's become more or less like a 2010s pop star – and we know what chaotic lives pop stars have… Already, the change of emphasis feels a little forced. The original text doesn't seem to me to suggest that Garry's life is that chaotic, or that he's really that exhausted by the demands made upon him. Here, self-awareness and knowing hyperbole are so much less ironic. ('Life deals me blow after blow.')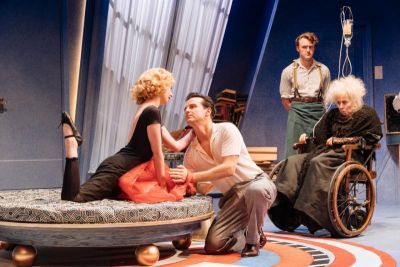 There's more modernity in that the 'Joanna' of the original is now 'Joe' and Garry is bisexual – along with two others. In 1943, Coward may have gone that far, but always aware of his audience, would not have. There's also a touch of 'wouldn't it be funny if…?' That is, in Mr Warchus' direction. Anything for a laugh. Daphne the groupie is discovered in her fairy costume, complete with wings, rather than emerging from the bedroom in Garry's pyjamas. Did they, or didn't they? And if they did, how did they manage the wings?
But the principal difficulty for me is in the style of performance. One is thrown back in one's seat by a gale of over-acting. There couldn't be a better example of seeing this show really live at the The Old Vic versus seeing it in a cinema via National Theatre Live's cameras.
In the theatre, this production may well have been wildly funny, but when performances are filmed with cameras virtually on stage, they can seem way over the top, way too loud, with some of the cast mugging for laughs and the show at times verging on hysterical. Farce becomes farcical – and a bit tiring. Qualities we might associate with Coward – those very attributes that make his work worth reviving over and over – disappear. (I overheard the man sitting next to me remark to his companion, 'In London now, they just crank everything up – it's appalling.')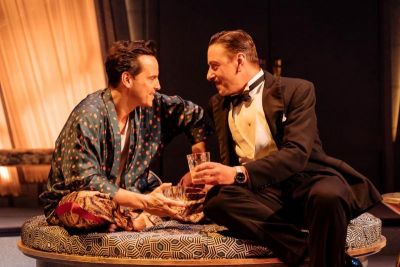 Some cast escape these strictures. Mr Cilenti's Joe is just about a Coward character - suave, quickly articulate and persuasive – and Ms Varma's uneven but mostly restrained Liz hits the right note of near credible realist. Mr Hill's Fred, the valet, plays it low key and absolutely straight – and the audience loves him for it. Mr Scott's problem (along with his director) is to take Garry seriously – although he's impressive when he calms down, descends from the heights of self-pity and delivers a biting rant to the ardent but talentless Maule on playwrighting. Coming from Coward, being entertaining of course gets top priority. I admit to laughing frequently – either at wit or insight – but to so do meant seeing past the performances to the writing.
Michael Brindley
P.S. Coward wrote the play in six days. So much for 'workshopping', dramaturgy, endless drafts and improvisation.
Photographer: Manuel Harlan