By Helen Jerome. Based on the novel by Jane Austin. Redcliffe Theatre, Queensland. Directed by Madeleine Johns. June 7 – June 16, 2019
Let's go back into the past and follow the family relationships as every possible trick is used to find husbands for the three Bennet girls – Jane, Elizabeth and Lydia – as daughters could not inherit any of the estate. Success for a young lady was to be married and here their mother is obsessed with the task. The novel was written during the Regency Era in 1813 and this gives the modern audience the opportunity to witness a view life of a time so very different from our own.
Madeleine Johns has assembled a strong cast to present this image of upper English life of that period. The set was simple, yet sophisticated with locale changes achieved reasonably well. The visual images of costumes, movement and poise were all there before we had the acting. Basically, we watched the conflict between Elizabeth with her pride and D'Arcy with his prejudice develop and become resolved.
A number of the performances were outstanding. June Tretheway was an excellent Mrs Bennet as the over-all play depended on her character so much. A nasty piece of goods. In another critical role, Ashleigh Law was a very effective, believable Elizabeth Bennet in the crux of the play. Her sisters were acted by Arina Popock as jane and Leah Mustard as Lydia in a way that brought the family to life.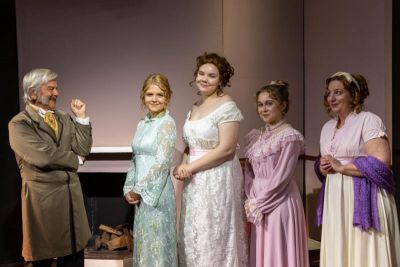 Tracey Zielinski was Lady Catherine de Bourgh, the wealthy superior relative. Paul Cant was the contrasting non understanding father of the household while Terry Skinner played the silent very effective butler. I would hire him. In other key roles, Lachlan Muirhead was D'Arcy, a more complex role in many ways. Torin Moodie settled very well into role of Mr Collins more as the play progressed to become an interesting character. Congratulations to the whole cast as there were no weaknesses.
I was fascinated by this production and enjoyed it very much. Some variations in grouping and movement would have enhanced the overall production but it was very good. Redcliffe Musical Theatre has continued to raise the bar higher with each presentation as was very evident here. This was a different of the play I have seen previously but a good one. Well done.
William Davies