By Noël Coward. Elanora Players. April 20 – 28, 2018.
Elanora Players brings Private Lives into the 21st Century on a stylish set where silver, red and black predominate. Electronic devices are used to provide contemporary music for the tango and argument in Act 2, and by the maid Louise (Iwona Abramowicz), who dances to her iPod as she cleverly converts the balcony to an apartment between Act 1 and 2.
Director Sarah Lovesy has ensured the clipped English accents necessary for Coward's dialogue prevail, despite the more modern setting and costumes – and breakable vases effectively replace the records that are thrown in the original directions.
Dan Ferris, as Elyot Chase, brings the character into the present with a laconic portrayal of contemporary wealth and social class. He gives the character bearing mixed with a little condescension and disdain that lends belief to Elyot's duplicity, infidelity and eventual lack of concern over his behaviour.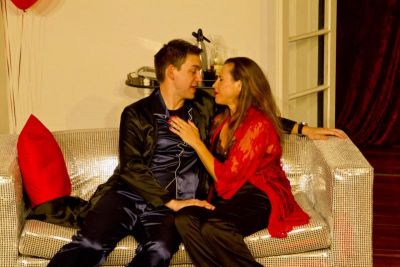 Karen Pattinson plays Amanda Prynne. Tall and lythe, Pattinson depicts the social pretension and perceived glamour of this character with exaggerated posturing, which becomes much more natural and convincing in the second Act, where passion and temper prevail over pretension.
Both Ferris and Pattinson make these scenes believably lusty and fiery. Their tango is executed well and their argument and the subsequent fight has good pace and realism. It is obvious that these scenes were very carefully directed and rehearsed.
Lela Keighley is Elyot's newly-wed wife, Sibyl. Keighley finds the naivety and trust of the new bride in the first scene, but slightly overdoes the childish temper of betrayal at the end of the first Act. However, in Act 3 she is much more contained and believable when she re-enters the play with Amanda's new, and very moral and stilted husband, created by Michael McCrann.
Abramowicz returns to the stage in this Act, still dancing to her iPod, and delivering her French retorts as spitefully as she delivers the café et brioches that Amanda has ordered. Abramowicz obviously relishes the fun that Lovesy has directed into this role, as does the audience.
Carol Wimmer