By Noël Coward. Castle Hill Players. Pavilion Theatre, Castle Hill. Nov 16 - Dec 8, 2018
With the voices of Gertrude Lawrence and Coward himself infusing the action, director Jan Mahoney pays tribute to one of the twentieth century's theatrical 'greats". Playwright, composer, librettist, musician, satirist, actor, director – Sir Noël Coward made his special mark on stage and screen in England and America. His plays live on as classic vignettes of the wealthy social 'set' of London in the 1920s and 30s. Though satirical, grains of truth and censure hide beneath the stylish patina of each of his works – and Private Lives is no exception.
First produced in London in 1930 – and Broadway in 1931 – Private Lives is a comedy of manners involving a volatile divorced couple, Elyot and Amanda, who find themselves honeymooning with their new spouses in adjoining rooms of the same hotel in France. Despite their former stormy relationship, their attraction to each other is re-ignited, and they run off to Amanda's flat in Paris, where their fiery romance oscillates between lust and rage.
When their deserted wife and husband finally find them, further mayhem ensues.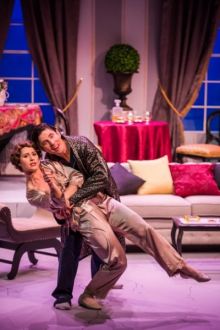 The production is faithful to the period. The set, designed by Maureen Cartledge, honours the sleek elegance of Art Deco that is symbolic of 1920s style and sophistication. Lush fabrics and chintzy cushions adorn the furniture and softly lit columns (lighting design by Andrew Kinch) suggest the elegance of the carefree time that followed the First World War.
Annette van Roden and Mahoney have had similar, authentic fun with costumes. The vibrancy of the Fauves is recalled in soft fabrics, flowing lines, pretty colours, feathers and the inevitable touches of gold and silver – and the actors wear them with panache.
Vocals too are true to the time. Under the wise guidance of Judi Burgess, the stylised dialogue is enhanced by carefully enunciated vowels and crisp consonants, paying further homage to a writer who chose his words with formidable care and biting implication.
Mahoney has stayed true to the tenor of the original script, not shying away from the violence with which Coward endowed Amanda and Elyot's tempestuous relationship. "Noël Coward was not trying to endorse domestic violence," she explains, "but it's hard not to read the script of Private Lives without applying our 21st Century views regarding spousal abuse."
That being said, the violent and physical outbursts of Elyot and Amanda are carefully choreographed and performed convincingly well.
Nicole Harwood and Jeremy Johnson take on those legendary roles, falling in and out of love passionately – and viciously – but always stylishly. Madeleine Stanford and David Went play their rejected new spouses, moving from loving, to lovelorn, to love lost with similar style. And Margaret Olive returns to the Pavilion stage for the third time this year as Amanda's flu-infected French maid, Louise.
Jan Mahoney has approached this much-loved play and its esteemed playwright with the respect and style they both deserve.
Carol Wimmer
Photographer: Chris Lundie