By Noël Coward. St Luke's Theatre, Brisbane, 23 November to 1 December, 2018
St Luke's is a community theatre group that has been presenting productions at Tarragindi for 60 years. With a reputation for providing top quality family entertainment, they certainly succeeded with their final play for the 2018 season – the Noël Coward favourite, Private Lives. This is community theatre at its best – a vigorous and vocal audience add to the warm and welcoming atmosphere. The venue has a family flavour too – cast members, such as Matthew Hobbs, are regulars, having started at a young age alongside his parents on the St Luke's stage.
Because most of Coward's script depends on good comic timing, director Sharon White keeps the production on track with a spritely pace. And she ensures that her actors deliver confident and entertaining performances. As the rakish Elyot Chase, Matthew Hobbs thrives on the flippancy that the script insists is so essential to survive the boring conventions of the day. Hobbs adds a pinch of Pythonesque frustration to Chase's usual roguish scoundrel. He is well matched in capriciousness and impertinence by Jane Binstead as Amanda, the ex-wife who turns up unexpectedly on his – and her – latest honeymoon. She imparts Amanda's spoilt-brat selfishness with the allure of a silent screen siren.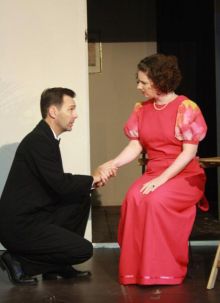 As the next Mrs Chase, Emily McCormick elevates what could be a thankless role and plays Sybil with a dizzy delight that had the audience fall in love with her. David Richardson handles the straight-laced Victor, Amanda's new husband, with aplomb. As the 'other partners' McCormick and Richardson are assured and witty foils for the main pair. They have fun personifying Coward's perception of married life's trappings – either mundane and boring, or demanding and manipulative.
Like the 'rhubarb & custard' that was a popular boiled sweet of the era, Coward's play tempers the sweetness with an acid edge. He portrays opulence and freedom only a year after the Wall Street Crash and the first UK general election where women could vote. The romance is constantly undercut with the tension of conflict. And, while some of Coward's material is at risk of becoming dated – his lines about the differences between the sexes and cutting comments about women raised a raucous laugh of disbelief from most of the audience – this experienced cast made the most of every line, resulting in many laughs and much enjoyment for the capacity audience.
As a play of its time, the sets and costumes must do their bit to help transport us to 1930. This is difficult on a community theatre budget, but Brett Simpson and David Lang have done a great job with the hotel balcony and Paris apartment setting. Desley Nichols and director Sharon White also evoke the elegance of the era with frocks that inspired positive comments from the crowd.
This production is a pre-Christmas treat for audiences who want to stay local and support their neighbourhood theatre enterprises – with the bonus that proceeds go towards St Luke's charity of choice. I look forward to finding out what new treats St Luke's have planned for 2019.
Beth Keehn