By Simon Reade, adapted from the book by Michael Morpurgo. Promise Adelaide. The Bakehouse. May 4th – May 6th
It's nearly 100 years since the end of "The Great War" and here in Australia we have just celebrated our annual remembrance of the sons and daughters who made the ultimate sacrifice for "King and Country".
Private Peaceful at The Bakehouse is an ironically-named telling of one young British soldier's story. It moves from childhood to growing up on a farm, then to the trenches of Belgium and the battle of Ypres.
Apart from the 325,000 British casualties and horrible injuries suffered at the hands of the enemy, the British army also executed 306 of their own men for desertion and cowardice. The only crime these mostly teenage volunteers had committed was being human and afraid. Simon Reade's adaptation of Michael Morpurgo's book Private Peaceful is a 90 minute emotional ride; a lonely night for Private Tommo Peaceful recounting the story of how, at the tender age of 17, he ended up in such a predicament.
Ben Francis is mesmerising as Private Tommo Peaceful. At lights up, Francis takes his audience by the hand and never lets them go. He plays a myriad of characters, starting with young Tommo having a tantrum on his first day of school, then as his big brother Charlie, who is always by his side; teachers, good and bad; his mum; the girl he loves; a power-hungry army sergeant, along with many others.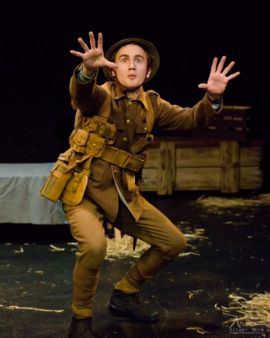 Francis glides into and out of these characters with a skill and maturity far beyond his years, giving each character a subtle nuance and producing voice changes that are virtually flawless. The emotional range displayed, especially in the trenches during battle, is amazing and Francis doesn't miss a beat.
The opening night audience were all on the journey with Tommo and his friends and enemies.
Designers Rob Croser and David Roach have created a space that allows Francis the room to move and change characters with ease, whilst evoking the farm and the trenches. Lighting and sound by Stephen Dean perfectly complement the story and the action on the stage.
The battle scenes, though loud to an audience in a theatre, are, I am sure, just a fraction of the real thing. They suitably emphasise the horror these young men had to endure. "I just want it to stop," says Tommo.
Director Rob Croser and actor Ben Francis have created an excellent production that should not be missed. This is why theatre lovers see as much as possible, because in amongst the mix of ho-hum, good and excellent there is a gem… and Private Peaceful is that gem.
With a short run and only a couple of performances left, if you can, get to The Bakehouse for this one.
Maxine Grubel