Book by Neil Simon. Music and Lyrics by Burt Bacharach and Hal David. Directed by Nadia Tass. The Production Company. State Theatre Melbourne. October 3 – 7, 2012.
They say if you remember The Sixties you weren't really there. Well I was there, and I do remember every year. I remember Billy Wilder and I.A.L Diamond's The Apartment inspiring me to be a writer; and falling in love with Jack Lemmon. I remember every Burt Bacharach and Hal David song and wore out Aretha's version of "Say a Little Prayer". I remember every Neil Simon play, starting with Come Blow your Horn. It was a magical decade, and the stuff that Promises, Promises is made of. But Promises, Promises showed at its opening night that it has something the sixties lacked: It has Matt Hetherington at its heart.
The Production Company's last offering for this year sees Matt Hetherington bring all of his talent, stage presence, comedy timing and vocal ability – along with a large dash of Jack Lemon's charm, to the role of Chuck (C.C Baxter). As the lovesick and bumbling, yet opportunistic and ambitious young executive who gives out his apartment for illicit adulterous trysts, he makes us love him without judgement. He so wants to do the right thing, but fails. It would be entirely his show to own were it not for the wonderful Chelsea Plumley (Marge MacDougall) whose two drunken cougar scenes opening Act Two manage to pack more laughs and comedy business into fifteen scene stealing minutes than the rest of the show combined. It's a classic example of the "no small parts" adage. She's marvellous. Hetherington matches her laugh for laugh. It's some of Simon's best writing ever.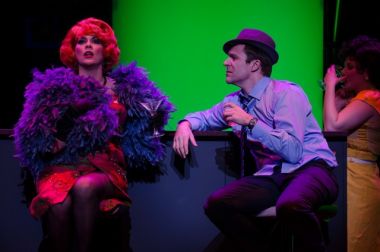 Our perfect leading lady, Marina Prior (Fran Kubelik), is, as always, a very classy lady. That's possibly to her detriment this time round, for her Fran is more of a victim, a wronged Boston socialite, than the Brooklyn bred cafeteria supervisor who is impulsive and makes poor choices. For me she was too refined, and the accent really didn't find its place until mid-way through the second act. I longed for a Fran with vulnerability but more edge, and some working class "smarts". Her gorgeous soprano voice is as pure as ever, but it's hard to make the leap when you've been used to the soul of Aretha Franklin driving "I Say A Little Prayer" for most of your lifetime. Quintessential pop songs need a pop voice for me. Hopefully the chemistry between Chuck and Fran will grow during the run. They do at least look like the perfect couple.
Robert Grubb is always a delight to watch and especially endearing as Doctor Dreyfuss; and Tony Cogin is a commanding presence who drips testosterone (in the nicest possible way!) The supporting cast are all excellent – something which goes without saying in The Production Company. The band, under the direction of Guy Simpson, complete with back-up singers, was one of the major assets. Nadia Tass's direction works for the most part, but there are awkward transitions and stage waits which do diffuse the momentum of the storytelling. Then there's Bacharach/David and the songs – four of which are bonafide pop icons; Turkey Lurkey Time is a fun ensemble piece but you only realise forty years later that songs like Our Little Secret may rank amongst the worst songs in Musical Theatre ever.
The Production Company has had a fabulous year. What they achieve with each production in only two weeks rehearsal is staggering. I am in awe and a great fan. If Promises, Promises seems a little bland, perhaps it's because Chess and The Producers (the other offerings this season) were so exceptional. This was a promise kept, but not exceeded.
Coral Drouyn
Images: Matt Hetherington and Marina Prior & Chelsea Plumley and Matt Hetherington.