By Joseph Zettelmaier. Centenary Theatre Group. Chelmer Community Centre. 9-30 November 2019
Not even fans of the film Pulp Fiction – which famously plays around with the sequence of time – will be able to guess the extraordinary events in the denouement of Joseph Zettelmaier's PULP. The American playwright and University teacher mashes up Pulp novels, detective fiction, sci-fi and Monster-sploitation to come up with his own unique stage genre, combining his love of stagecraft (the lighting, sound and visual effects are superb) and stage combat, as well as – I am just guessing – the midnight movie marathon of schlock horror 'classics'.
This is a wickedly fun show and the Centenary Theatre Group ensemble makes the most of the genre tropes and punchline tags – only to be expected when the plot involves a group of pulp magazine writers involved in a real-life murder mystery when their shared literary agent is brutally murdered. There are some very funny lines about critics and rather dying a violent death than submit to using a writing cliché. Fans of the mix of genres will no doubt pick out the breadcrumbs of plot devices and in-gags too.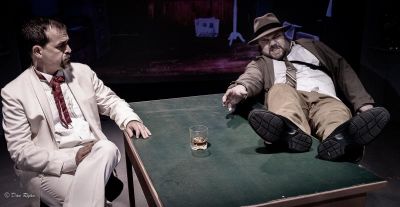 Leading us on the trail of clues and red herrings, madcap plotlines and unexpected tangents, is a perfect cast: Michael Civitano in the lead as Private Investigator, Frank Ellery (a nice nod to inventor of the term 'film noir', French film critic Nino Frank, and famous fictional crime writer, Ellery Queen), confidently embodying the LA gumshoe detective of the 1930s noir era; Andrew Wallace, outstandingly zany as RA Lyncroft is a cross between Rocky Horror's Dr Everett Scott and Chariots of the Gods' Erich von Däniken, a writer who delves into the ancient and supernatural; Jason Nash adds laugh-out-loud cartoon comedy as Walter Kingston Smith, the mystery writer who moonlights as a crime-fighting vigilante; Erik de Wit is Bradley Rayburn, the nerdy sci-fi writer whose den of inventions includes gadgets crucial to the twisted plotline; and Megan Bennett as the glamorous romance author and femme fatale, Desiree St Clair, on a quest for justice that only a true romantic and gumshoe sidekick can – but are any of the characters above suspicion of being the murderer?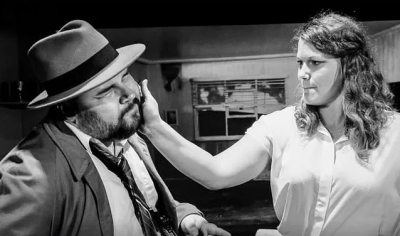 The play itself is a tad long, but Director, Cam Castles, and the experienced cast keep the Dodge wheels rolling. The LA City setting is brilliantly brought to life using back-projected films and sound design by Liam Castles, a detective office diorama by Thomas Swanborough, and a wonderful collection of pulp fiction covers and film posters. Special mention for Brian Hobby's superb lighting design, which is crucial to transporting us into the LA underworld of pulp fiction and sci-fi scapes. This is another example of highly entertaining and technically superior community theatre from the Centenary group. I believe that seats are selling out, which is great news for the dedicated and talented team behind PULP.
Beth Keehn
Photos: Dan Ryan