By Ariel Dorfman. 5pound theatre and Attic Erratic. The Owl and the Pussycat, Richmond, Vic. July 23 – August 2, 2014.
All that is needed for fine theatre is a space to perform, a good text, a connected audience, and talented people on a quest for excellence. 5pound theatre and Attic Erratic have brought all those elements together for Purgatorio, by Chilean playwright Ariel Dorfman, and the result is a stunning piece of theatre on a shoestring budget.
Dorfman's play explores the recognisable universal themes of Retribution (Revenge) and Redemption; but it delves more deeply into more esoteric philosophy: Is love un-ending and all-conquering? Can there be redemption without acceptance and forgiveness? Are love and hate tied to ego (and therefore personal reaction and pain) or do they exist eternally, and externally, outside of us, on another plane? These are huge questions – the stuff that Buddhist retreats might thrive on. Can they work as drama and, albeit thought-provoking, entertainment. The answer is yes, when put in the hands of the uber-talented Celeste Cody. Cody's direction of this immensely satisfying but equally difficult play is masterful on all levels. Whilst the text describes the idea of a hospital or clinic, with inquisitors in white coats – and observation through a two-way mirror, Cody has had to contend with the logistics of the space and budget. Instead of them being a compromise, she makes them an extraordinary asset, adding far more dimension to the play. Cody's Inquisitors wear long dark overcoats with vague overtones of the Nazi regime; the "marked ones" (I can't think of another term – everything else is too definitive; not victims, nor accused, nor criminals – yet captives of their own lives…past, present and future…) are in rags yet with a hint of past riches. There is no sense of time or place, even with as broad a reference as the universe….purgatory is the gateway to hell or salvation; it exists within and without; now and for all time. Cody understands this and conveys it beautifully, emotionally repelling and caressing us simultaneously.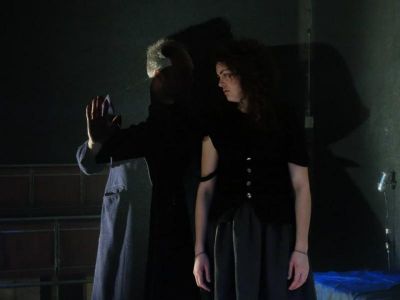 Anyone who knows the performing space at The Owl and The Pussycat will know it is a bare room, about the size of an average living room. Cody splits the width in two with a shade cloth scrim right across it. She divides the audience, and her two actors, into separate spaces. The result is something quite filmic, distorted perception with two halves of the audience never seeing ALL the action, but drawn in by the half they inhabit, into that character's POV, the rest existing in shadows. In the brief moment where the scrim is torn aside and the characters physically interact, we, as audience, are so shocked that we feel momentarily violated.
With the lack of any real set or props, all the theatrical magic is created by Jason Bovaird's astonishing lighting design. Gone are all the high tech Intellibeams and Varilights we've become used to. Bovaird uses a simple rig of old fashioned spots with just a two colour palette. The subtlety of whom he lights, and how, is quite breathtaking. He tells the entire story, symbolically, through the simplest of devices exquisitely placed. One moment I can still see clearly in my mind's eye is the woman (Medea) in the spill of a spot on "my" side of the audience. Beyond the scrim and out of the shadow comes the man, moving forward till he touches the scrim. He is almost completely in darkness, and yet there is a small flood, "off stage" and behind him that creates a halo around one side of his body. He has only to turn, to move one step, to feel the warmth and escape the darkness. Despite the promise of "the light", he is powerless to embrace it because he cannot let go of his hate/love for the woman on the other side of the emotion/scrim. Storytelling through lighting. Bovaird is an Artist.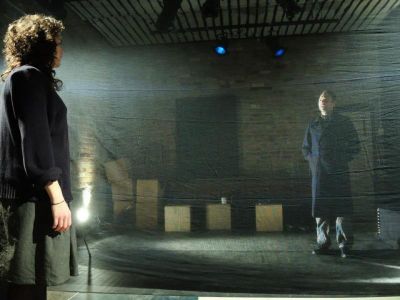 In the tradition of saving the best till last, Jason Cavanagh and Freya Pragt are simply astonishingly good as the man and woman. Pragt, who can be almost pin-up beautiful, is an animal…a feral woman seething with passions and fury and pain and loathing (mostly for herself) which she cannot control. She spits her words, her eyes burn, she crawls on the floor. She is frighteningly wonderful. Cavanagh (I saw the second performance when he was apparently on fire) is so intense that is difficult sometimes to watch. Compliant to the point of fooling not just his inquisitor but himself, he seems justifiably hurt, but not a man who deserves this punishment. We feel sorry for him and hate her, until that moment when he breaks through and we understand how deep and vile his betrayal was. I am not ashamed to say he had me emotionally overwhelmed and crying. The connection between these two, the intimacy they bring to the love/hate relationship, even when totally unaware of who they are talking to, is something very special for an audience to experience.
These four amazing talents combine in a night of superb theatre - the kind we always long for but rarely see. I swear I could hear Prospero whisper in my ear "We are such stuff as dreams are made on." Dream on.
Coral Drouyn