By Ben Crocker. Directed by Douglas Sutherland Bruce. Garrick Theatre, Guildford, WA. Nov 28 - Dec 14, 2019
Pantomime season is well and truly upon us, and while there are a few pantos yet to open, Garrick Theatre's Puss in Boots will be hard to beat for quality this season. This is a huge production, despite the tiny stage, and features a baker's dozen of 'principal roles' with quite a few featured appearances.
Lots of songs in this pantomime, which are well performed under the musical direction of Lyn Brown, who leads a 4 piece band. Siobhan Vincent does well to choreograph over twenty dancers, of very varied skill, in a restricted space.
The title role is played by Neve Havercroft in a dynamic, well crafted, clever performance. She works well with Roshni Kaila, who is a strong as principal boy Jack. Principal girl Princess Esmerelda is played well, as a strong, independent woman, by Sophie Byrnes.
All good pantomimes can use a wonderful dame, and Gavin Crane delights the audience as the buxom and bossy Queen Wendy - also wearing some of the best costumes in the show (Costume design by Kelly Barnard, Colleen Bradford and Sarah-Jane Nombergen-Crute). David Johnson as King Wally shows some beautiful comic timing. Their valet Bobbie is nicely played in a sporty breeches performance by Jenna McGougan-Shaw, and they are protected by fairy Priscilla, characterised nicely by Colleen Bradford.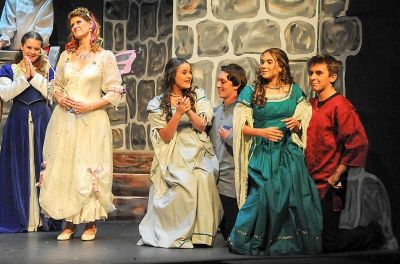 There are some great villains. Ogre Grimgrab bears more than a passing resemblance to a very famous US citizen, well parodied by Caileb Hombergen-Crute (great make-up by Ebony Lally), with his employee, bad fairy Pernicula played with relish by Fiona Forster - an audience favourite. Jack's older brothers, the arrogant Jasper (Owain Bundock), and the delightfully dim Jethro (Matthew Roberts), dabble in villainy before (re)winning the hearts of sweet village girls Babs and Betty (Katelyn Barr and Karmara Churchill).
Jacinta Radbourne makes a surprise cameo, and there is some great "Bunny" acting, among a strong hard working ensemble.
The multi-level set, designed and built by Graeme Dick, Gary Green and Gary Wetherilt, serves the production well, with lighting and sound design by Geoff Holt helping the set become multiple locales.
A strong production that will appeal to all ages. Puss in Boots is a joy to watch.
Kimberley Shaw