By Mawby Green and Ed Feilbert. Harbour Theatre. Directed by Tina Barker. Camelot Theatre, Mosman Park, WA. July 26 - Aug 4, 2019
Harbour Theatre's Pyjama Tops, based on Jean de Letraz's 1950 French farce "Mou Mou" was a sexy, old-school farce with mistaken identities, attractive women, crime and corruption and a spot of bed hopping.
Director Tina Barker has designed a simple but practical single set, with impressive scenic art by Melissa Bassett. Rob Tagliaferri and Callum Hunter light the stage well, with solid sound design by Vanessa Gudgeon. Tasha Jane's wardrobe suggests the 50s, which gives us a time period that matches the dialogue and style of the show.
Gordon Park is convincing in the anchor role of George Chauvinet, a man who is trying to have his cake and eat it too, balancing both his wife Yvonne, (an elegant Kirstie Francis) and his mistress Babette (an exuberant Tasha Jane).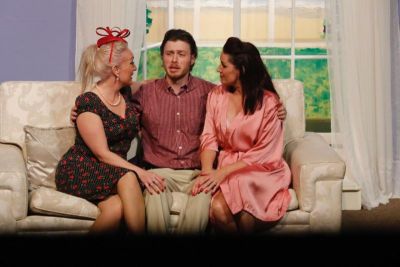 Kezia George, making her first appearance since her student days, impresses as aspiring courtesan Claudine. Alex Federer, in his second show, is likeable as artistic Leonard Jolijoli. Peter Scarrott is energetic as fugitive Jacque, with Marcus McGavock completing this tight-knit ensemble as Inspector Legrande.
There is an obvious warmth in this performance and the enthusiasm for the text is clear and evident, but the midweek performance I attended did not quite reach the galloping pace required for farce to really fly. The decision to have some characters use French accents, with the remainder not, was also a little distracting. There were, however, some really lovely laughs in this show.
Advertised as "just the thing to chase away the winter chill", this was indeed a fun little winter warmer.
Kimberley Shaw