By Grace De Morgan. Key Conspirators & North of Eight. Melbourne Fringe Festival. New Council Chambers, Trades Hall. 13 - 22 September 2019
It's unusual to find a Fringe show that is a full-length (well, 90 minutes) and well-made play with an appealing and talented cast of five and directed by a fully professional and accomplished director. From the title, you'd guess this was something else. I did. What a pleasant surprise. The spirit of Alan Ayckbourn hovers over Quite Drunk, Very Jesus-y – and that is no bad thing. An ensemble of 'ordinary' people who are or were practicing Christians and who think they know each other turn out not to. No one gets very drunk – just quite drunk, enough to say things they didn't mean to say but perhaps should have before this. As for Jesus, His influence has become a little tenuous. (Maybe the play needs a title change?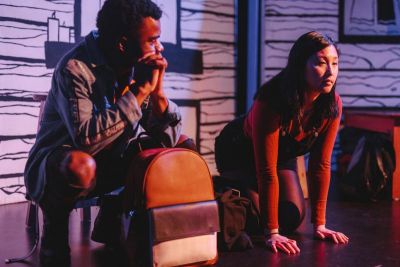 Jessica Stanley gets a chance to display manic, motor-mouth energy as 'Beth' who's invited old friends from church to her birthday party. As she prepares, fussing over every tiny detail, she's on the edge of panic: she believes that no one really likes her, that she's a failure and indeed, despite being a business consultant and believing in Prosperity Christianity, she's $35,000 in debt. Vivian Nguyen is 'Candace', the good girl who's done everything right: if anyone's still a Christian, it's Candace – but is she happy about it? 'Justin' (Gideon Wilonja) is the fish out of water, the truth teller and the evening's catalyst, even while maintaining an infuriating calm. He arrives with Agnes (Siobhan Connors in a stellar performance), who's a little brittle and mercurial and, as we find out, with good cause. Beth has told the others that the venue – an isolated house in the country – is hers, but she's caught out when her brother Simon (a rather suave Pat Moonie) arrives unexpectedly. It's his house and they can all get out. It's hardly a spoiler to say that nobody does. But it's Agnes, really, who is at the centre of things – that is, it's her journey through the play that carries the most weight – comic and sad. It's a delicious performance – and there's a poignant irony in the fact that when Agnes achieves something for which she has prepared too long, it's a crushing anti-climax. If there's a flaw it's that birthday girl Beth, having brought them all together, almost disappears from the show, as if Ms De Morgan has no further use for her. A pity since Ms Stanley's gets a lot of comedy out of Beth's self-abnegation and non sequiturs – and there's that brand of Christianity too.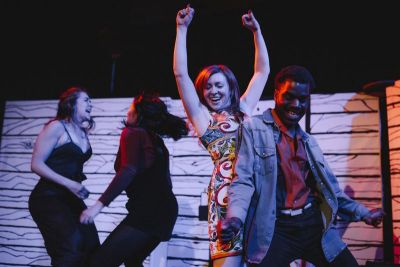 Designer Helen Rofe finds the right wardrobe for each character and her set – a stylised timber cottage interior and garage all in black and white – serves the action well. Shane Grant's lighting subtly creates interior and exterior – and isolates characters at key moments. Justin Gardam could perhaps bring his sound design up a notch to signal that the action's all taking place in the bush, miles from anywhere.
Finally, director Peter Blackburn brings out the light and shade, the mayhem and the silences, in Grace De Morgan's witty and insightful text, getting the pace just right from moments when everyone's talking at once to moments of painful or just thoughtful silence. Quite Drunk, Very Jesus-y is the best work so far from North of Eight – a new-ish, young company of actors – collaborating this time with Key Conspirators. Good move.
Michael Brindley
Photographer: Jack Dixon-Gunn