Concertworks. Hamer Hall, Melbourne, June 20, 2018 and State Theatre Sydney, June 23, 2018
I was feeling a bit out of it. Here I was at Hamer Hall to review an Iranian refugee who escaped to Canada via Italy and made it big on Broadway, and I was the only one there who had never heard of him. The audience had high expectations and it didn't take long for him to meet them completely, and I was soon as big a fan as the rest of them.
Apart from his obvious vocal talent, it was his easy stage manner and the way he made everyone feel he was talking just to them that got everyone in. There was a lot of love in the room.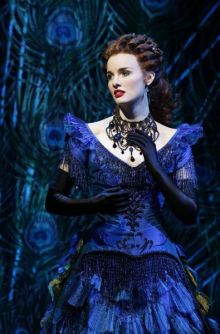 His high tenor was very versatile and his word painting impeccable. There was a mixture of well-known songs from musicals to obscure songs from musicals which hadn't made it down under and songs he had composed himself. They were all equally well performed.
Anna O'Byrne was a worthy partner. Fresh from a season of Oklahoma! with the Production Company, her high soprano was able to balance him in some lovely duets, as well as shine is solos. They worked well together.
The band was an interesting combination of violin, cello and double bass, guitar/banjo, drums and piano. Then sometimes Ramin would pick up his guitar and accompany himself, particularly on his own songs.
The arrangements were different and always interesting. There was a hill-billy version of "Oh What a Beautiful Morning" and a very different version of "Old Man River". Favourites with the audience were "Bring Him Home" and "Music of the Night", while Anna shone in "Love Never Dies".
The only issue was the sound. The voices were too strong and there was sometimes some distortion. It's much easier when you have a long run and more time to balance the PA.
It was a shame he was only here for one night.
Graham Ford
Images: Ramin Karimloo in Les Misérables and Anna O'Byrne in Love Never Dies.