By Kate Mulvany. Ensemble Theatre (NSW). April 1 to 30, 2017
The multi-talented Kate Mulvany has let her very vivid and extremely articulate imagination run wild in this farcical interpretation of the assassination of Rasputin, the mystic 'monk' who wormed his way into favour with the Russian royal family prior to the 1917 Bolshevik Revolution. The play is a romp – a mischievous piece of theatre that pushes the boundaries of style and pace, reaching a crescendo of ridiculous, well-timed action that will either delight – or dismay.
Directed by John Sheedy on a quirkily designed set (Alicia Clements) with surprising lighting effects (Matthew Marshall), this is an extraordinary production that has the pace, action and fun of a Feydeau. And though it is not the usual fare expected by Ensemble audiences, full marks to artistic director Mark Kilmurry for taking the risk of including something a bit outrageous and edgy in the Ensemble season.
The mystery of Rasputin's 'powers' and the surrealism of his assassination – he apparently survived poisoning, shooting, bludgeoning and eventually died only when he was wrapped in a carpet and drowned in an icy river – provide the background for the play. Four 'assassins' provide the risible stereotypes that scheme hopelessly – and cavort absurdly on, in, around and under furniture, through doors and picture frames and in and out of costumes – as they try desperately to murder the monk.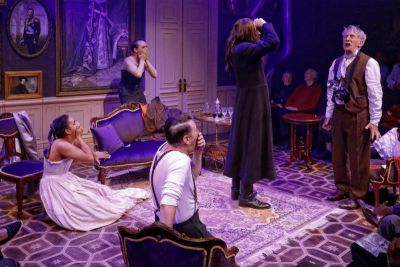 Sheedy brings his much-awarded skill and vision to the production. Moments of fast pace and tempo are juxtaposed with concentration centred on the gradually changing contortions of a character's face. Every action and interaction is precisely choreographed; every aspect of each character's eccentricity is meticulously exploited. He has complete empathy with Mulvany's intent … and her sense of the absurd.
Tall and lithe in swirling black robes, long hair flowing and wild eyes flashing, Sean O'Shea is stunningly 'possessed' as Rasputin. He exudes the crazed passion of the zealot, the conniving calculation of the deviant and the sustained energy and strength of the fanatic – especially one in a fast moving, unpredictable farce!
The roles of the four assassins demand similar strength and energy – and perfect comic timing. Whether setting up the tenor of the comedy, or racing around the stage in a carefully choreographed frenzy, each sustains a quirkiness that informs the eccentricity of the character.
Tom Budge is Felix, a Russian prince who is more than a little odd. Budge uses his eyes, face and contorted movement to show the peculiarities of this character who becomes increasingly harried, increasingly hyperactive – and increasingly funny.
Hamish Michael is Dimitri, co-conspirator and seemingly at first a foil to Felix. Initially Michael's Dimitri is elegantly aristocratic, carefully controlling any underlying anxiety until he too, caught up in the mayhem and madness of the murder attempts, over-rides his control in fast-paced chaos.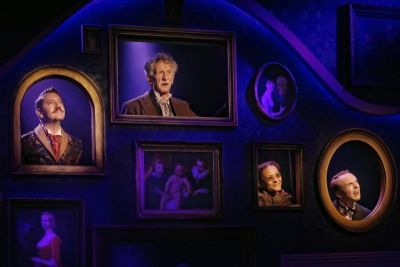 John Gaden, in, surprisingly, his first appearance at the Ensemble, plays Vlad, the reluctant but fascinated collaborator who intends to record the event for posterity. Gaden brings a wealth of experience and his well-known comic timing to this role – and an energy that is not usually expected of an actor of his years.
Zindzi Okenyo plays the ice-glare affected serving wench Minya who aids and abets the conspirators – and also gives them a bit of a surprise. Okenyo's versatility and vitality never cease to amaze. She moves from simpering servant to energetic assistant to supercilious spy with practised ease.
The rapid, precise choreography of the frenzied final scenes of this production demands perfect timing and total concentration. Without it, farce can become just silly – but Sheedy and his stellar cast pull it off with style.
This an actor's play, written by a clever actor who can also write. It's overseen by a skilled and creative director and performed by a talented cast. It won't necessarily appeal to all – but it is another theatrical coup for Kate Mulvany … and for the Ensemble.
Carol Wimmer
Photographer: Prudence Upton.