Highwire. Midsumma Festival. Melba Spiegeltent, Collingwood. Jan 30 – Feb 3, 2019.
Rebel is more than just a fantastic David Bowie tribute show - it traverses boundaries and fuses circus and cabaret performances with fuzzy rock n' roll energetic style.
Melba Spiegeltent boasts a friendly casual atmosphere where you can meet up for drinks, soak in the ambience and enjoy the show. Rebel is a Midsumma event that offers a fully rounded, packed show for all ages.
How else to start the show but with the famous Bowie classic 'Rebel Rebel', sung by the host of the show, Stewart Reeve. He masterfully holds court in his striking full-length dress coat, but he is not just some show pony prancing around the ring, he is an amazing performer who sings with passionate zeal.
'Space Oddity' hits ground control and Reeve has really made the grade in collaboration with the gorgeously spectacular Jane Schofield, who floats high above in an aerial act that has her elegantly wrapped in flowing neon blue fabric.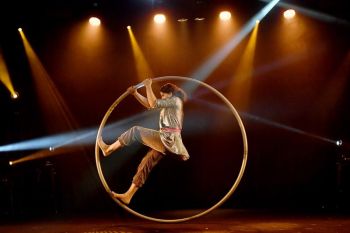 'Lazarus' is dark and brooding, sung by Reeve while band member Chris Singer swaps his guitar for the hanging swing pole, performing gyrating aerial acrobatics.
Cat Scobie swaps her bass guitar for the axel grinder and Winter Cyan eloquently moves her Cyr wheel. Rachel Trainer is back up vocalist, beats the drums and plays guitar. 'Heroes' has Reeve hitting those high notes with Schofield roller- skating into a riveting trapeze act.
A great team of talented performers who "Under Pressure" cover with conviction, collaborate and deliver a full hour of non-stop performance.
Flora Georgiou
Photographer: Brig Lee.