Created, directed and performed by Rebecka Stuart and Sophie Thompson. La Mama Courthouse, Carlton. 6 – 9 February 2020
Rehearsal for Death is a dance work that enacts a circular journey to the inevitability of death. In this hour-long presentation, there are at most a dozen spoken words, 'Shall I jump?' and 'You are going to die' among them. It begins with two dimly lit figures. Their stillness and their posture suggest corpses. They come to life – reluctantly – and drag themselves into the light… We come out of darkness and we return to it.
Then begin passages of the most intricate choreography. Rebecka Stuart and Sophie Thompson are excellent dancers – fluid, controlled and precise. At times they are in unison, mirroring each other. At others they are in opposition or conflict, with one of the other initiating the other's movements or, as it were, controlling them. Their movements are huge, sweeping, charged, or there are tiny, fleeting gestures like sudden birds.
The only props on the otherwise bare stage are an ornate box (that might be a coffin, a cave, a womb, or just a box) and a chair. The sound design by Sophie Thompson is a combination of traffic (the 'real world'), eerie but completely appropriate music and repetitive percussion that suggests the heartbeat that must eventually stop and the ticking away of time.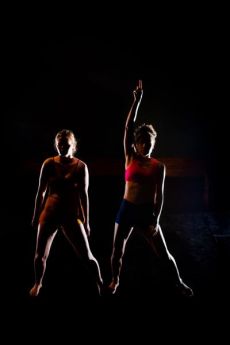 It is a pleasure to watch these dancers, but what their choreography suggests only flares occasionally into meaning. We briefly glimpse (perhaps) representations, or metaphors of such things as birth, bonding, the severing of bonds, animosity, the passage of time, the tempting of fate and, I think, a kind of satire on the things we do to avoid thought of what lies ahead – that is, to quote their program note, that 'Each of us will eventually fall into the unpitying clutches of nature…'
There is some distance between the rather profound claims made in these program notes and what we actually experience. That is, between the intention, or what the two women think or feel they are giving us, and their choreographic presentation of it. Although much of it is beautiful, indeed often hypnotic, certainly intriguing and never boring, it is curiously never moving. There is no pleasure to be opposed by pain. There is no sensuality to be opposed by loss. Given the ostensible subject matter, that seems almost puzzling.
Perhaps it is all too intricate, too busy for the flow of emotion. I wonder whether the presentation really does demonstrate 'the feeling of uncertainty and impermanence, while honouring the deep pain that comes from witnessing and living through the death of a loved one…' And does it 'offer our audience the gift of being reminded that we are all living on a knife edge, and our bodies will eventually fail us'?
Immense work and thought here are evident, but in its very detailed complexity, what it might mean to outsiders – that is, the audience – feels opaque.
Michael Brindley
Photographer: Mischa Baka