By Jonathan Larson. Chatswood Musical Society (NSW). Zenith Theatre, Chatswood. September 23 – October 1.
Iconic, generational hit musical Rent, with its contemporary voice and rock score, is a magnet to young performers.
Writer / composer Jonathan Larson died before the Off-Broadway opening of his hit rock musical / opera, without the chance to further develop it, so the very sparsely written piece needs strong directorial interpretation to fill out the storytelling. It also needs uniformly fantastic rock voices.
A number of the voices certainly hit the mark. Highlights for mine are Hayden Barltrop as Angel, Fiona Hamilton as Joanne, Amy Toledano as Maureen, and the combined ensemble.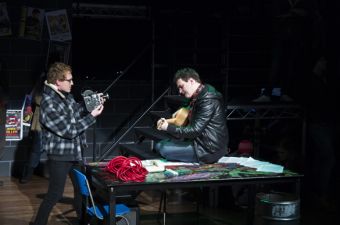 Toledano's performance piece is a broad comic highlight, Hamilton's dual telephone scene, when she manipulates two phones and two converations, is another gem, and their duet is a real musical highlight among the principal performances. Barltrop's vulnerable, generous spirited drag queen Angel is an affecting, engaging portrayal, with delightful comedy to match the pathos, together with assured vocals.
The production reaches terrific vocal heights in ensemble numbers including Seasons of Love, where there is also outstanding work from the Victoria Mahy, who nails the soaring high notes with obvious joy and total ease. The ensemble's energy and enthusiasm was joyous, and their commitment total.
But not all the principals manage the rock heights with such skill, and big notes came in under pitch too frequently for comfort on opening night.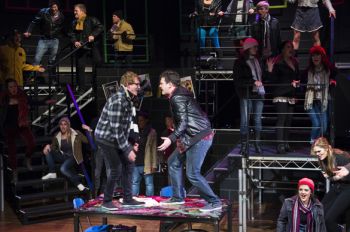 Mark, the film-maker / narrator, was very effectively played by Levi Gardner, though musically he found some of the highest notes just out of range. The relationship between Josef Jovanofski's Collins and Barltrop's Angel was warm and credible (though Jovanofski too missed some of the big notes), and Lily Robertson was a bright, simmering attractive Mimi.
The trademark guitar introduction to the show, played by songwriter / guitarist Roger, really should have been synched by a stronger musician in the band.
I've already alluded to direction, and I apologise if I now start to sound a bit like Directing 101.
When I first saw the multi-level set on the small stage at Zenith, I looked forward to a very exciting and innovative use of the space.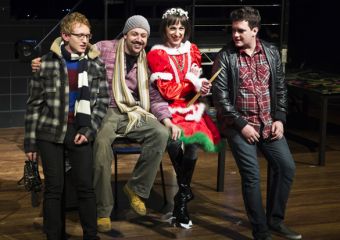 However, despite the potential of Neil Shotter's design, much is spoilt by the addition of an enormous table centre-stage which clutters the space, cramps the action, and puts a massive obstacle in the way of free-flowing movement. It leads to lots of lazy leaning on its edge and sitting, also severely limiting the tremendous edginess and raw physical energy you expect in a rock musical, and got in the Broadway production. When two more equally large tables engulfed the stage for a period of the second act I despaired. They provide a total barrier to stagecraft and skew some of the action away from large portions of the audience. In my side block of the theatre, all I saw was backs during one of the show's big numbers - shaky direction and definitely poor allocation of review seats (equally bad for my paying neighbours).
Clunky transitions and blackouts, including chorus exits, prevent pace and momentum building, when with better planning of continuity and space the show might actually fire.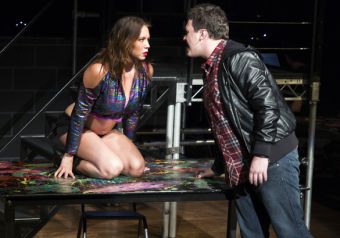 Rent ended up more like a series of enthusiastically received big numbers than a flowing production. The boisterous enthusiastic first night audience reaction at the end of songs, like a screaming TV studio audiences at Australian Idol or Australia's Got Talent, is somewhat appropriate,and indicates that the show worked on that level.
For me though, while I left the theatre humming some of the tunes from one of my favourite contemporary musicals, I emerged at interval muttering 'that damn table.'
Neil Litchfield
Images: Alan Roy Photography.
To keep up with the latest news and reviews at Stage Whispers, click here to like us on Facebook, or follow us on Twitter.