By Jonathan Larson. Directed by Paul Watson. Next Step Productions. Midsumma Festival. Chapel off Chapel. 9th -18th January, 2014.
A stunning revival of a music theatre icon opened this week….and no, it wasn't Grease (fun though that was). This new production of Rent (based loosely on La Boheme) is the shared vision of director Paul Watson and producer/star/choreographer Leigh Barker – and what a vision it is, proving once again that the truly remarkable theatrical events in the city of Melbourne rarely happen on the main stage. There's so much that is exceptional about this production, that I am almost speechless, and I have never been a fan of this show until now.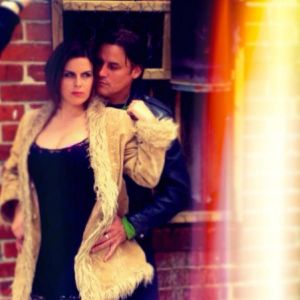 Director Paul Watson has a strong commitment to script, and exploring why a character does something. His approach is deep rather than wide, and that shifts the focus of the book entirely. Instead of being an evenly balanced series of vignettes with emphasis on the many couples, marginally favouring Mimi and Roger, he puts Angel firmly at the centre and has all the other stories drawn into that vortex, each one directly connected to Angel's influence. It's this shift in focus which adds the extra emotional layer to the work and grounds the story, at the same time as elevating Angel to an almost subliminal Christ figure – touching lives and changing them, but making the ultimate sacrifice in the process. Watson is aware of these subtleties in a way I have never seen before…..it isn't by chance that the joyful café scene has the visual impact of Da Vinci's Last Supper, or that the multi levelled set subtly tells us what level of awareness characters have reached. Watson also designed the minimalist but effective set. Nothing is extraneous, but nothing is wasted either, and there is an amazing sense of almost filmic space in the way that he blocks and moves his characters. This production is not predominantly about living with HIV, it is simply about LIVING in all its complexity.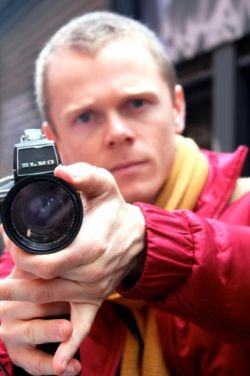 Brad Alcock's lighting is a triumph, quite breathtaking at times, and the use of the actual stained glass window in the Chapel as an integral part of the set at the beginning and key dramatic point of the show is a masterstroke. Andrew Leach and his band are excellent throughout and Leach's handling of the vocal direction is quite astonishing. Conrad Hendrick's sound design is magnificent. Leigh Barker's choreography is simple but effective and ….that most elusive of things….precise. Hands move as one when needed – characters have individual style when needed. All of this, the entire production, is about the pursuit of excellence, and that is what theatre should always be about, but often is not. It's about commitment and passion, and that is why the same names appear so often in the programme, and a few people have worked their bums off. It's not about money (I doubt there is any), it's about honouring the gifts that they have to offer.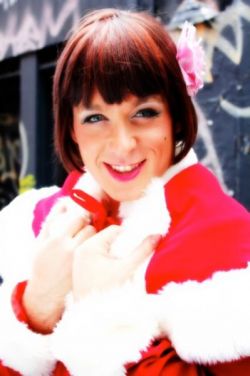 Barker's new company Next Step Productions has made a commitment to promoting new talent…or talent that has not had the break it deserves. Watson's casting is impressive, and this is a cast of superlative talent. The voices are splendid and uplifting throughout, the characters clearly delineated. Mark (the splendidly voiced Cameron MacDonald) is an outsider, an observer of life rather than a participant. MacDonald is utterly convincing. Melanie Ott's Mimi has just the right amount of fragility to take the edge off her protective hardness. Shaun Kingma's Collins is rich vocally and heartbreaking in its Pathos. Zuleika Khan (Joanne) has astonishing vocal chops and amazing stage presence. Gemma Purdy (Maureen) is impressive and never overplays the petulant and self indulgent manipulator. Ashley Roussety (Benny) is in great voice that belies his slight frame. He's being mentored by David Rogers-Smith, and it shows! Steve Simmons (Roger) is without question a great singer and musician and adds rugged charm to the role but, for me at least, (and it's a small niggle) there was not enough of the fear, pain and anger that drive Roger. It's a role that requires total surrender to it. Director Watson will play the role next Friday and Saturday and will no doubt bring a totally different take to it. The Ensemble are amazing; I can't find enough superlatives. This is a true triple threat cast.
And then, remembering my Mum's adage to save the best till last, there is Leigh Barker's Angel. This is no camp, over the top, flaring drag queen as is so often portrayed. This is a human being who knows who he is, who is a compassionate giver in a world of takers, who loves totally and without condition. There is a line where someone recounts Angel telling a ratbag "I'm more of a man than you'll ever be; and more of a woman than you'll ever have." (sic) That sums up Barker's Angel. It's clear he trusts his Director completely and the result is such humanity that we are truly heartbroken at his death, which is distressingly real. Watson's "reprise" of Angel in Mark's movie in the final moments is yet another master-stroke in a production full of them. Some people may not "get" the emotional depth; the truth and bravery of this production. That's their loss. You may have guessed I am in awe and will be returning for a second viewing. Make sure you don't miss out.
Coral Drouyn