A co-production of Festival d'Aix-en-Provence and Adelaide Festival. Stage Director, Costume and Lighting Designer Romeo Castellucci. Musical Collaborator: Rachaël Pichon. Adelaide Symphony Orchestra – conducted by Rory Macdonald. Adelaide Festival Chorus. Australian Dance Theatre. 28 February & 1,3,4 March 2020
A requiem is a service or commemoration for the dead. Mozart's unfinished Requiem was written only weeks before he died and is the inspiration for Castellucci and Pichon's beautiful and moving interpretation of this funeral mass.
This production is a living, breathing work of art. It combines in equal proportions the best of theatre, visual art and music, through the combination of the singers, musicians, dancers, actors and the technical skill of the lighting, set makers, costume designers and crew.
It is also a philosophical journey, which explores the experience of being human; our anguish, our mistakes, our pride, our achievements, our losses, our grief, our knowledge that we will die.
The joy is in the beauty of the music, superbly played by the ASO under the baton of Rory Macdonald, with the measured and astonishing singing by the members of the Festival Chorus and the soloists. Astonishing because they dance, move, change costume, create and change scenes, as well as bare themselves bodily and emotionally to lift the audience to heights of emotion such as wonder and appreciation and even to wide-eyed and horrified realisation of stark realities-almost it seems, without ever drawing breath.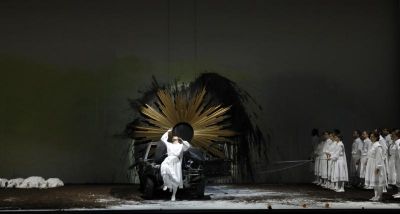 This is not a requiem for one person. It is a requiem for all mankind and for our planet. The Atlas of Extinctions listing species of animals, rivers, peoples, religions, languages and more, all lost to this world forever, reminds us of the destructive power of the universe, nature and humans.
It is sobering and frightening as the audience is led with "increasing anguish to the present time of our existence" in which we are faced with the fact that we are NOW in a time where we are contemplating the death of our species, our world, our planet, our own deaths.
The production uses the traditional version of Mozart's unfinished Requiem, which was completed by Süssmayer. The score also includes a range of additions to the Süssmayer version. The opening is an a- capella Gregorian chant, with this followed by Meistermusik, a Masonic hymn for a men's choir. Throughout the production there are other additions from Mozart's body of work.
If this all sounds as if Requiem is morbid and depressing, this production certainly isn't. There is joy and community in the life shown on the stage, as dancers and singers celebrate in folk costumes the everyday successes of life and acknowledge the sacred and unknown. There was inspiration in the way the music lifted the audience to a sublime and beautiful part of our souls.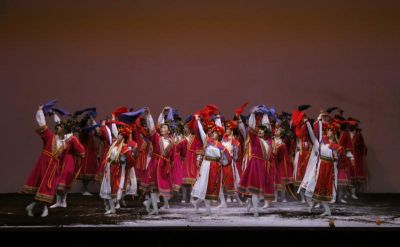 Requiem also creates the possibility of hope. Is there a hope that we could use this creativity, imagination, goodwill, understanding and knowledge, to be and to create a more positive and life-giving force than the negative, destructive one we find prevalent?
After it comes to its conclusion you always know when a production has touched an audience-and this particular conclusion represents both the detritus of death and destruction and the embodiment of innocence and hope. There is a pause almost deafening in its silence as the audience drags itself back from the places to which it has been taken and into the present moment where there is a need to applaud. On this night there was then a standing ovation by many while others were too affected to stand.
Requiem is truly astonishing! It is ingenious, stunning and at times overwhelms us with emotion and the flood of realisation as to what loss in all its forms and finality can truly mean.
This production is why I love the Adelaide Festival. Requiem inspires, challenges and is ultimately stunningly beautiful. If you can get a ticket, go!
Sally Putnam
Photographer: Pascal Victor