Adapted from Roald Dahl's stories and poems. La Boite and Shake & Stir. Roundhouse Theatre, Kelvin Grove. Jan 8 – 18, 2014
"You think you know this story … You don't." Each actor issues this forewarning as they pop up from different trapdoors as the show starts.
The production makes the most of the vivid imaginations of children and the familiar story time characters to create a performance that leads the audience on hilarious and revolting adventures. Just four clever actors, Leon Cain, Judy Hainsworth, Nelle Lee and Nick Skubij invent multiple characters. Their brilliance is at the heart of this show's appeal.
The creative team also excelled themselves. Josh McIntosh designed amazing costumes and a very clever set with props cleverly hidden inside a revolving stage, trapdoors and the inventive use of huge swatches of cloth that became a ball gown, the sea, a beanstalk, a back projection screen and an ingenious snail shell. Jason Glenwright's complex lighting and Guy Webster's sound effects brought the designer's dream to life.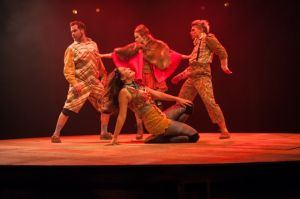 People of all ages got carried away by the action, and I happily recommend this incredibly creative production to everyone. However, because of the pace of action and dialogue, I suggest that people already familiar with Dahl's stories will enjoy the show more. Electronic manipulation of the voices and fast dialogue make it difficult to understand at times.
This playful and exciting production will have audiences laughing from beginning to end!
Bridget Free (aged 13) + Jay McKee (editor and technical advisor).
Images by Dylan Evans.