Opera by Giuseppi Verdi. Libretto: Francesco Maria Piave, after Victor Hugo's play Le Roi s'amuse (1832). Queensland Symphony Orchestra, conducted by Johannes Fritzsch. Director: Lindy Hume. Chorus Master: Narelle French. Opera Q @ Lyrics Theatre, QPAC, 15-29 March 2104.
There was some fine singing on display in Opera Q's new very grand production of Verdi's 150-year old Rigoletto, which has been updated in director Lindy Hume's concept to Silvio Berlusconi's Italy. Hume originally created her vision for New Zealand Opera in 2012 using Berlusconi's bunga bunga sex trial and corruption scandals as her inspiration.
Modern dress operas are a two-edged sword, they either work or they don't. This one basically worked better than most although frustratingly there were still anachronisms.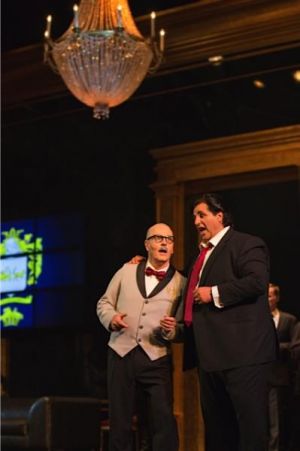 Vocal honours of the night went to Elena Xanthoudakis, as Gilda. Expressively sung, hers was a beautifully controlled performance which even had her adding lustre to the score's famous soprano aria 'Caro nome'. Jud Arthur was a brilliant Sparafucile delineating the part with menace and violence, helped by his street-thug dress with hoodee and tatts, while Dimity Shepherd's Maddalena was a perfect sister in crime. The other standout vocal was Andrew Collis as Monterone. Although the character's on-stage appearances were brief, it was powerful and memorable. Rosario La Spina, making his first appearance with Opera Q as the Duke of Mantua, scored with a vigorous and audience-pleasing version of the opera's most popular aria 'La donna mobile', whilst Rigoletto veteran Michael Lewis was at times compelling in the title role and rose spectacularly to the occasion in the Act 3 quartet 'Bella figlia dell'amore'.
Richard Roberts' Duke of Mantua's Palace design was stunning with its black floor tiles and opulent furnishings epitomising the grandeur of Italian villas, whilst Andrew Meadows recreation of Jason Morphett's original lighting design for the New Zealand production, was striking, especially in the approaching storm sequences.
The Opera Queensland Chorus looked stylish with the girls especially sexy and lascivious in the party scenes, whilst the Queensland Symphony Orchestra (who could probably play this score in their sleep) delivered a performance with gusto under maestro Johannes Fritzsch.
Peter Pinne
Photographer: Stephanie Do Rozario