By Tim Winton. Heath Ledger Theatre, State Theatre Centre of Western Australia. Director: Kate Cherry. June 25 - July 17, 2011. the Arts Centre, Melbourne - August 5 - September 10, 2011
Three of the most interesting characters in Black Swan's Rising Water are the rudderless, motorless and sailless yachts, Goodness, Shirley and Mercy, which form the set of Tim Winton's play. Gorgeously designed by Christina Smith, they have distinctive personalities and are wonderful metaphors for the characters that live aboard them, tethered to a Fremantle marina.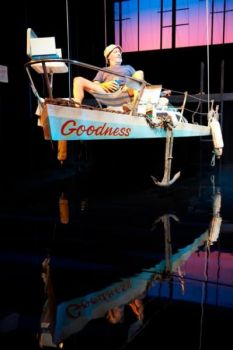 This is not to diminish the performance of the living kind. John Howard's Baxter lives on the dilapidated Shirley - fittingly at centrestage. Like the yacht he inhabits, Baxter has lived a rough life and Howard conveys his complexities well. Geoff Kelso's Col, like Goodness is in need of repair and while Jackie (Alison Whyte) looks great on the surface, she too is tethered yet adrift. Claire Lovering plays Dee, an English backpacker who literally stumbles into their world and is the catalyst for action. Newly graduated from WAAPA Claire delivers a captivating performance as the brash, uncouth young woman.
In supporting roles Stuart Halusz (also associate director) played a myriad of cameos, while Callum Fletcher (who alternates with Kai Arbunkle) was charming as the spirit-like Boy who appears to belong to an other world.
Like much of Tim Winton's writing there were quintessential West Australian elements, but with messages for a wider Australian audience. It was interesting though, that Black Swan felt the need to import interstate actors - excellent though they were. Are imported actors essential to attracting an audience?
A fascinating and moving production of a great new local play.
Kimberley Shaw
Images: Claire Lovering and John Howard; Geoff Kelso. Images by Gary Marsh
To keep up with the latest news and reviews at Stage Whispers, click here to like us on Facebook, or follow us on Twitter