By Gaetano Donizetti. Melbourne Opera. Director: Suzanne Chaundy. Musical Director: Greg Hocking. Athenaeum Theatre. November 11 – 18, 2017.
Donizetti's opera Roberto Devereux is rarely performed, mainly due to the demanding soprano role. This was more than adequately met by local girl made good, Helena Dix, whose international career is on the rise.
A born comedienne, Helena presented a quirky Queen in the first act, with small movements being quite telling. Later she was quite furious when Roberto made it obvious she was no longer his main concern. Her pathos after his death was touching.
Vocally she was outstanding, the highest notes being tackled fearlessly, the coloratura deadly accurate and the pianissimos stunningly beautiful. It was a sobering thought to realise that I could have seen her in the film of Norma from the Metropolitan Opera the previous week, if the title character had been ill, as she was the cover.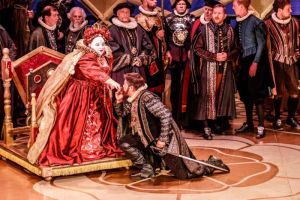 However, this was not a one woman opera, and the other cast members certainly stepped up to the plate. Henry Choo in the title role was in thrilling voice, though he did tire towards the end. Danielle Calder was a strong Duchess and Phillip Calcagno sang beautifully as the Duke.
The costumes, borrowed from Opera Australia, were impressive and the set was imposing. The orchestra played well, though were sometimes a little too strong, and the chorus singing was robust.
I hope the Melbourne public don't miss this opportunity to see this rarely performed work with an outstanding cast.
Graham Ford