By Chris D'Arienzo. Director Kristin Hanggi. Choreographer: Kelly Devine. Comedy Theatre, Exhibition Street, Melbourne. Australian Premiere: Saturday 9 April, 2011.
In the era of big hair and shoulder pads, Rock of Ages is a light hearted look at 80s music. Set in The Bourbon Cafe on Sunset Strip, Los Angeles, cafe owner Dennis (Anthony Harkin) provides employment and connections for young hopefuls Drew (Justin Burford) and Sherrie (Amy Lehpamer) waiting for their big break as rockstar and actor. When property developer Hertz (Davis Whitney) is given permission to demolish the club, Stacee Jaxx (Michael Falzon) the larger than life lead singer of band Arsenal, returns to the Bourbon Cafe for one last gig. Lonny (Brent Hill) narrates the tale with flair in a Jack Black vein.
But Rock of Ages is not about the story, it's about the music, led masterfully by the onstage band. Twenty-eight rock anthems fill the theatre space, including Pat Benatar's Hit me with your best shot, Starship's We built this city, David Lee Roth's Just like living in paradise, Europe's Final Countdown, REO Speedwagon's I can't fight this feeling anymore, and Poison's Every Rose has its thorn which had some audience members singing along rapturously.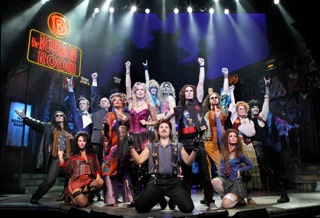 Parents be aware there are multiple sexual references in word, deed and set props, as well as drug references, lap dancing scenes and coarse language. At one stage Lonny smokes on stage and sells drugs from a pizza box.
On the down side, the first half is about 10 minutes too long, but this is redeemed after interval when the comedic pace drives us towards the inevitable happy ending.
Special mention must be made of the crowd pleasing performances of Lincoln Hall (Franz) making his professional musical theatre debut, and Samantha Hagen (Waitress Number One) whose short vocal solo is electrifying.
Rock of Ages is a fun, loud night out that doesn't take itself too seriously. The dance choreography is hair-oriented and high energy, the digital content quirkily irresistible, and the provision of 'cigarette lighters' to the audience an inspired touch.
Lucy Graham
Photographer: Jeff Busby.
Other Reading
Interview with Producer Rodney Rigby.
Read our interview with Amy Lehpamer
To keep up with the latest news and reviews, like us on Facebook, or follow us on Twitter.