Book, Music & Lyrics: Richard O'Brien. Ambassador Theatre Group/Gordon Frost Organisation Production. Director: Christopher Luscombe. Musical Director: Dave Skelton. Choreographer: Nathan M. Wright. Lyric Theatre, QPAC, Brisbane from 10 Jan 2014 / Crown Theatre, Perth from16 Feb 2014/ Festival Theatre, Adelaide from 21 Mar 2014 and Comedy Theatre, Melbourne from 26 Apr 2014.
It's hard to believe we've been doing the "Time Warp" for forty years. But on the Fortieth Anniversary of Rocky Horror this new Australian production, based on the recent UK production, proved the show is still one of the best rock 'n' roll musicals around. And with Rocky Horror veteran Craig McLachlan repeating his Frank-N-Furter role with a bunch of super-talented co-stars, it was almost the perfect production.
In a performance that was charismatic and outrageously camp, McLachlan brought sizzle to the stage whenever he appeared as the 'sweet transvestite' from Transylvania. He pouted, preened, and shamelessly indulged himself to the hilt and the audience loved every minute of it. In fact the more decadent the character was the louder they screamed.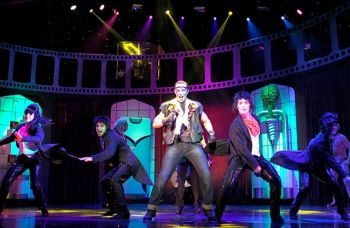 Almost matching McLachlan in the charisma stakes were Rocky Horror virgins Tim Maddren and Christie Whelan Browne as the virginal Brad and Janet. Maddren sang like a dream and performance-wise kept a reign on caricature and send-up, while Browne managed the transition from innocent to immoral with great fun. Brendan Irving had the right abs and look for Frank-N-Furter's "perfect man", Ashlea Pyke had her tap-dancing moment as Columbia, and Kristian Lavercombe's Riff-Raff was appropriately ghoulish. Christopher Luscombe's direction kept it fast, while the band under Dave Skelton was tight and incredibly loud, the way rock 'n' roll should be. Hugh Durrant's design plundered the glitz handbook time and time again, helped by Nick Richings eye-catching lighting.
Audiences last night were treated to a bonus performance when author Richard O'Brien made a surprise appearance during the curtain call, thanked the cast and audience, and joined in an encore of the "Time Warp." It was a fitting end to this fortieth celebration of a show O'Brien originally thought would only last about three weeks.
Peter Pinne
Photographer: Jeff Busby
More Reading
Earlier Rocky Horror coverage and more detail
Our Facebook cover pic of Richard O'Brien and Craig McLachlan