By William Shakespeare. Queensland Theatre Company. Playhouse, QPAC 21 April – 13 May 2012
This show exceeded all expectations.
Overenthusiastic morality police complained about bill-board pictures of the lead actors embracing because 2011 Matilda-award-winner Melanie Zanetti looked 'underage'. She played a very convincing fourteen year-old Juliet and deserved the praise and love the audience showered on her. They also loved Thomas Larkin's Romeo, his second performance as a Shakespearean hero within three months.
Caroline Kennison was deliciously feisty, brash and bawdy as Juliet's Nurse, a coup de théâtre performance.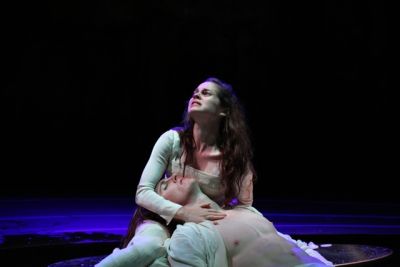 Director, Jennifer Flowers drew together a star-studded cast of actors of all ages and gave them free rein with the juicy language. This was probably the most lewd and roisterous bunch of young Italians studs I have seen in any production of this play. Barefoot, bare-chested and lascivious they romped through their Verona, courting disaster at every turn.
Bill Haycock's very practical and universal set looked solidly aristocratic, while his costume designs brought a colourful balance to the tragic plot. David Walters carried this theme through in his lighting and Phil Slade created an unobtrusive soundscape initially, which built towards impending doom, nicely capturing the mood of the action.
Quibbles? Yes. I was confused by the casting of Veronica Neave as Mercutio, and the show ran two and a quarter hours without interval. Audiences need forewarning.
Nevertheless, this was a truly memorable theatre occasion.
Jay McKee