By William Shakespeare. Sport for Jove. Bella Vista Farm, December 21 – 30, 2019; Leura Everglades, Jan 11 – 26, 2020; Old Government House, Parramatta Park, February 2 – March 1, 2020.
On cue, the birds started shrieking at 8pm just as the drama commenced, adding to the challenge of hearing the actors but also adding to the excitement of the opening. The outdoor setting in front of Bella Vista Farm – equipped with a balcony on a two storey building, a separate adjoining farmhouse with steep stairs, a courtyard and a softly descending garden is a delicious stage for this classic.
Director Damien Ryan set Romeo and Juliet in a village in Italy in the twentieth century, tangled by long lines of rope strung in different directions with clothes pegged to them. In marched returning soldiers who sang to celebrate their homecoming and wept for a colleague who did not make it. The unity of the homecoming provided only a brief respite from the frantic on-going gang warfare between the Montagues and the Capulets.
By the time the birds had finished screeching for the night at around 8.30, so too had the more overt Italian aspects of the production, which included smattering of dance and language, that mysteriously disappeared into the darkness.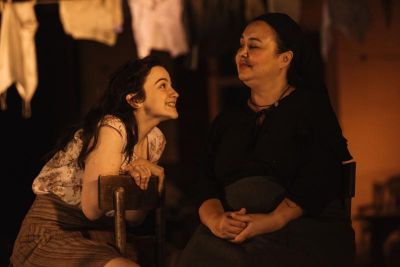 A striking aspect of the production was the youth of the leads. Romeo and Juliet are meant to be teenagers, but many major productions cast more mature actors. 16-year-old Oliver Ryan as Romeo displayed the full benefit of having "grown up in the theatre" under his father's tutelage. He was passionate, angry and desperate in the right doses.
Also blessed with actual youth was Claudia Elbourne as Juliet. She burned up the stage as a teenage tearaway overcome by love. Having a real balcony to recite Shakespeare's poetry from, climb up and swing from was a joy for the young lovers. A highlight was the choreography of their courtship involving a wagon that was festooned with flowers.
An even younger Ryan (14- year-old Max) was cast as Mercutio and also showed great acting maturity.
Surrounding the teenagers was a cast of seasoned adult actors. Septimus Caton was powerful as Capulet, whilst Bron Lim displayed equal doses of joy and grief as Juliet's nurse.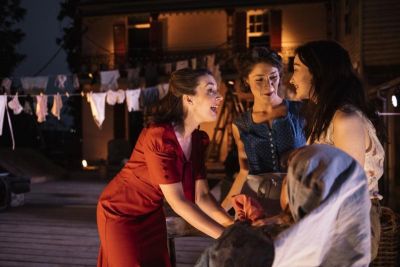 Not saying much, but providing moments of comic relief and directing traffic was Jay James-Moody as Peter.
There were many thrilling aspects of this production – from the swashbuckling fight scenes under the direction of Scott Witt, original music composed by Drew Livingston and Naomi Livingston, brooding lighting, to clever choreography of Juliet in a mobile bed, being pushed in and out of the frantic last scenes.
So bring a rug, and a hamper and grab one of the best seats early to enjoy this production.
David Spicer
Photographer: Seiya Taguchi