By Ben Travers. Tea Tree Players. Tea Tree Players Theatre. 21-31 August, 2019
Ben Travers' Rookery Nook is one of the great 'Aldwych' farces, and has remained a 'hit' with audiences ever since it was first produced in London in 1926. This tradition most certainly continues in this delightful new production by the Tea Tree Players.
Newly-married Gerald Popkiss is staying at a home called Rookery Nook, owned by his formidable sister-in-law, Gertrude Twine, whilst his wife is visiting her mother. Gerald's cousin, Clive Popkiss is staying with the Twine's and is there to meet Gerald when he arrives. All seems fine until that night when a young girl called Rhoda Marley suddenly arrives, barefoot, wet, and wearing only pajamas. Rhoda has escaped and run away from her bellicose German step-father, Putz. Gerald, ever the gentleman, takes her in and looks after her. However, the housekeeper, Mrs Leverett is aware of Rhoda's presence, and informs Gertrude Twine, who informs Gerald's wife, under the belief that Rhoda and Putz are members of a local 'house of disrepute'. Got all that? Because that's just the beginning.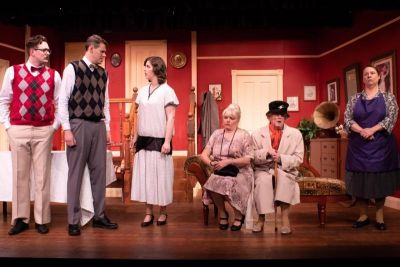 This is a classic English farce with all the wonderful characteristics of this entertaining genre. Director and Designer, Barry Hill, makes a few astute and accurate comments in his program notes: 'If Charley's Aunt by Brandon Thomas is the original King of English farce, then Rookery Nook by Ben Travers has to be the Queen! Its mission is purely to entertain with a style of playing that is largely lost in modern day farce.' Whilst it is essentially a mad-cap and 'camp' romp about the fear and suspicion of marital infidelity, nonetheless, it also damns those who indulge in vile and destructive gossip and rumour.
To a certain extent, however, I agree with Mr Hill's comments in regard to 'style' and an almost lost art of performing farce. Subsequently, I experienced a wave of joy and anticipation when the curtain parted to reveal a set with numerous doors.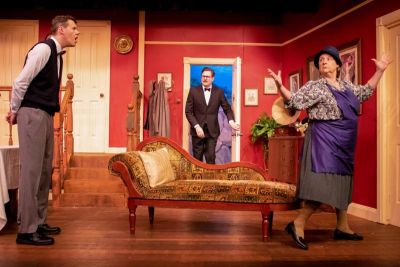 This was furthered by the performances, especially Adrian Heness as the beleaguered Gerald, and Benjamin Foster as his interfering 'silly-ass' cousin, Clive. These two characters dominate the action and essentially drive the play. Mr Heness and Mr Foster were simply terrific; not only in conquering the physical gymnastics of the play, including the rapid zipping in and out of the numerous doors, but also the brilliant word-play that is a part of Ben Travers' play, and is indeed part of Ben Travers' 'style'. For example, the word 'skirmish' takes on multiple meanings at once in this comedy, much to the delight of this reviewer who, along with this audience, simply giggled and laughed. This is just one small terrific thing in an evening full of joy and laughter.
It is true, as Mr Hill has noted, these days you don't often get the chance to see such great old farces as Rookery Nook, that have their own unique 'style'.
Subsequently, I can only encourage everyone to go and see this delightful production. It is entertaining and simply good fun. It has also very well directed, produced and acted, completely honouring the 'style' and 'genre' of the play.
Tony Knight